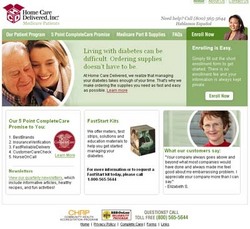 We are very excited about the launch of our Medicare Web site
Richmond, VA (PRWEB) December 11, 2007
Home Care Delivered, Inc. announces a new division of their website HomeCareDelivered.com that offers Medicare beneficiaries quick and easy enrollment in their supply management program, fast and reliable delivery of supplies, insurance verification, and access to a registered nurse. Diabetic, urological, wound-care, and ostomy patients who are enrolled in Medicare can benefit from the 5 Point CompleteCare Promise, which includes thousands of brand-name and Medicare-covered diabetes supplies, insurance verification, delivery of supplies in one to two business days, refill reminder calls, and toll free access to a registered nurse on staff. The website enhancements complement the broad suite of benefits available from Home Care Delivered, Inc. since 1996.
Gordy Fox founded Home Care Delivered following his own experience with family members aging and living with chronic medical conditions. He realized that it wasn't easy for people in a home setting to get the information or supplies, including Medicare diabetes supplies, that they needed to care for themselves or to follow a physician's treatment plan properly. The 3-channel HomeCareDelivered.com site is designed to support retailers, professional caregivers, and now, Medicare patients.
"We are very excited about the launch of our Medicare Web site," reports CEO Gordy Fox. "The site is designed to provide patients with the information they need regarding our services, support, and supplies, and to make enrollment in our supply management program quick and easy for the patient."
Online enrollment in Home Care Delivered's supply management program is hassle-free; a Patient Care Specialist calls and walks the patient through the enrollment process, performs an insurance verification, and obtains all necessary authorizations from the patient's physician. The supplies are then sent and delivered to the patient in only 1-2 business days. They handle billing Medicare and secondary insurance on the patient's behalf, and conduct friendly refill reminder calls.
"At Home Care Delivered, our Patient Care Specialists follow up with our patients on a regular basis so they don't have to worry about reordering," says Gordy Fox. "We strive to provide the best supplies and support in the industry."
Reordering is stress free: Home Care Delivered stocks top quality products from name-brand manufacturers like Home Diagnostics, Inc., Bayer, and Abbott. In addition to diabetes supplies, Home Care Delivered is also able to provide ostomy, urological, and wound care supplies.
For more information on enrollment in Home Care Delivered's supply management program or other services, please visit HomeCareDelivered.com and follow the "Medicare Patients" link.
About Home Care Delivered, Inc:
Home Care Delivered, Inc. has been providing a compassionate health care service since 1996, when it was founded by CEO Gordy Fox. Connecting the disparate pieces of the home care maze for more than 36,000 patients, the staff coordinates referral sources and payers, obtains medical documentation, provides smooth, hassle-free claims processing, and generally makes a positive impact on the lives of thousands daily.
###