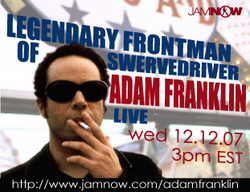 Tinton Falls, NJ (PRWEB) December 11, 2007
On Wednesday, December 12th at 3:00PM EST, NJ-based live music destination JamNow.com will host a live, high quality audio webcast with legendary Swervedriver/Toshack Highway frontman Adam Franklin.
From JamNow's own wired venue "The Bomb Shelter," Franklin will perform a set of live material from his new album Bolts Of Melody, and select material from other phases of his storied career. After the performance, there will be a freeform interview where Franklin will discuss Bolts, the upcoming 2008 Swervedriver reunion tour, and a wide variety of compelling subjects. The live webcast is free, and can be listened to from anywhere in the world at http://www.jamnow.com/adamfranklin.
For those who can't listen to the live broadcast, the full show and interview will be available as an on-demand audio stream from December 13 at http://www.jamnow.com/adamfranklin.
About JamNow
JamNow is an enabler of the Content 2.0 revolution, where artists are empowered to create, perform, promote, distribute, market, record and sell their own music, comedy and spoken word material. The site features content from established artists like Thrice, Dillinger Escape Plan, HIM, Anberlin, Ben Jelen and comedienne Margaret Cho, as well as up and coming talent like the Drama Club, Quickstep John, Mayday Parade, and Melissa Young.
With a free software download, artists (or anyone) can broadcast live from anywhere, to fans around the world. Fans not only listen to the performances in real time, they also have the opportunity to participate and interact with the artists and other fans.
JamNow performances are broadcast in superb audio quality, with ultra-low latency.
JamNow is based in Tinton Falls, NJ.
For further information, please contact:
Deana Graffeo - 917-374-3857 / Ben David Fenwick - 212-300-2057 @ The Catalyst Group
###