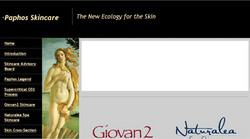 The system is hand-applied, requires no specialized equipment, and is free of Hydroquinones
Fort Lauderdale, FL (PRWEB) December 11, 2007
Growing concern over the side-effects of potentially hazardous skincare chemicals and procedures has given way to the announcement of a new microdermabrasion and skin re-surfacing system from Paphos Skincare. The Giovan2 Professional Skincare System, imported from Italy, utilizes the patented Supercritical CO2 Fluid Extraction process to produce natural skincare products of the purest quality and deliver desired results without harmful side-effects.
The Giovan2 system, for professional use only, is a complete, ready-to-use microdermabrasion and skin resurfacing system. The innovative system, available now from Paphos-Skincare.com, addresses skin conditions such as hyperpigmentation, rosacea, and acne through the use of biologically pure natural skincare ingredients. According to the website, the Giovan2's ruby crystal system sloughs away dead skin cells, while the natural ingredients Azelaic, Salicylic and Kojic acids help to reduce fine lines and wrinkles. Once patients have undergone the treatments, a home maintenance kit is available to prolong the benefits obtained from the facial system.
Paphos' Executive Director, Dr. Gary I. Weinberger, explains, "The system is hand-applied, requires no specialized equipment, and is free of Hydroquinones", the common skincare ingredient recently banned in Europe, Great Britain, and Japan. Hydroquinone's known side effects include rebound hyperpigmentation and Exogenous Ochronosis. However, research suggests that it may have a carcinogenic, that is, cancer-causing effect. The United States FDA is not far behind other countries, having banned over-the-counter use of the ingredient, thus skincare specialists, plastic surgeons, and medical spas are considering natural facial care products as alternatives.
"All botanicals used by Paphos Skincare are obtained by means of our patented process of Supercritical CO2 Fluid Extraction," says Dr. Weinberger. During Supercritical CO2 Fluid Extraction, Carbon Dioxide is injected into a large cylinder under high pressure and controlled temperature. This method allows Paphos Skincare to obtain 100% pure botanicals that have the highest anti-oxidant activity without residual, harmful organic solvents found in other botanical oils. The botanical ingredients in all Paphos' natural facial care products are certified biologically pure in the EU, by the Italian government.
Dr. Gary I. Weinberger, Executive Director of Paphos Skincare, has over 30 years of medical experience, and is committed to biologically pure ingredients and the process of Supercritical CO2 Fluid Extraction. In addition to the Giovan2 line of natural facial care products, the doctors of Paphos Skincare have created the Naturalea line of spa products featuring body, hand, and foot creams for client use. Dermatologists, plastic surgeons, and medical spas interested in purchasing either system may contact Paphos Skincare at paphos-skincare.com.
About Paphos Skincare:
Paphos Skincare is the integrated staff of plastic surgeons and biochemists Dr. Gary I. Weinberger, Dr. David P. Rigan, Dr. Zvi Sharf, and Dr. Larry H. Pollack with Leonardo Rescio. They are the creators of the Giovan2 and Naturalea lines of biologically pure skincare. Paphos is currently developing several other 100% natural products specifically for the demanding skincare market.
###