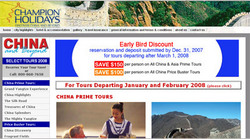 Champion Holidays provides clients with extraordinary cultural experiences and top quality travel arrangements to China and Asia at affordable prices.
New York, NY (PRWEB) December 11, 2007
The winter months are prime time for hibernation as the cold keeps many Americans at home. Instead of succumbing to claustrophobia and irritability, Champion Holidays looks to the future by announcing a fresh discount: a minimum one hundred dollars off all China vacations booked before December 31, 2007.
Champion Holidays has been providing American travelers with tours to China, Vietnam, and Cambodia for over a decade. This year, in light of the impending winter chill, Champion Holidays encourages Americans to focus on the year ahead and take advantage of their Early Bird Discount. For every China and Asia Prime or China Price Buster tour, Champion Holidays is offering a respective $100 or $150 discount.
The New York based tour operator announced the promotion on their website, which provides detailed itineraries for each tour offered, as well as city highlights, hotel accommodations, a photo gallery, and travel protection plan. For those wishing to combat the cold weather blues, the 2008 adventure travel China and Asia tour destinations invoke positive thought.
The China package tours include a number of popular cities and natural sights such as the cities of Beijing, Shanghai, Xian, and Hong Kong, as well as the natural Zhujiajiao Water Village, Yangtze River, and Wolong giant panda reserve. Prices for the China travel tour packages include roundtrip airfare, domestic air and ground transportation, up to 19 nights of hotel accommodations (including five nights on the 5-Star Yangtze River cruise), escorted tours, meals, and cultural entertainment.
The Early Bird Discount arrives in addition to Champion Holidays' already affordable prices. The company boasts of a dedicated office and staff in Beijing and Shanghai, which independently coordinates all of their adventure travel. China based offices, according to their website, help Champion Holidays maintain close working relationships with hotels, restaurants, and airlines to keep prices down.
Company President, Steve Xu, has more than 20 years experience in the travel industry, and says, "Champion Holidays provides clients with extraordinary cultural experiences and top quality travel arrangements to China and Asia at affordable prices." China vacations, like all international trips, can be expensive. However, Champion Holidays customers are amazed with the values provided by their established and tailor-made packages.
The Early Bird Discount comes at a time when many Americans are preoccupied with holiday shopping and the rising costs of heating their homes, but Champion Holidays believes this is a great time of year to combat stress by scheduling pre-planned, escorted, adventure travel China vacations. For more information, visit China-Discovery.com.
About Champion Holidays:
Champion Holidays is a tour operator specializing in escorted tours of China and Asia. Champion Holidays has been providing American tourists with value-driven tours for over a decade, and seeks to impart extraordinary cultural experiences at affordable prices. Champion Holidays also offers tailor-made services for private travelers or ad hoc groups by leveraging its contacts with the cultural and business institutions in China.
###