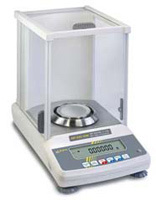 South Orange, NJ (PRWEB) December 11, 2007
Today, Tovatech announces the latest in KERN laboratory digital scales: the ABT Analytical Balance. This premium balance offers the same quality and reliability that has made Kern a leader among German-engineered laboratory scales, and the new ABT balance provides unsurpassed precision with its single-cell weighing system.
The weighing cell is constructed of a single block of material. Using the single-cell system effectively eliminates thermal variation error, which attend conventional models. This technology maximizes precision, even at the very edges of the weighing pan.
The Kern ABT scales provide fast stabilization and semi-micro precision for the highest performance in the industry. These laboratory balances are feature-rich including piece counting, percentage determination, and suspended weighing capabilities. GLP/ISO recordkeeping - a critical requirement in many applications - is standard on the Kern ABT balances. The large LCD display and a switch for metric/non-metric operation make these simple to operate.
The ABT analytical laboratory scale is available in five models: three precision models and two semi-micro models. The precision models provide weighing capacities of 120g, 220g, and 320g with a 0.1mg readout. The semi-micro models have weighing ranges of 120g and 220g. The semi-micro models offer micro-precision (0.01mg readout) in the lower portion of the range: up to 42g and 82g, respectively, and 0.1mg precision for the upper end of the weighing capacity.
The ABT semi-micro and analytical balances offer the finest in German engineering from Kern, a leader in analytical balances for 160 years.
About Kern
Kern and Sohn, GmbH has been a leader in precision balance manufacturing for over 160 years. Kern balances are used worldwide wherever quality and reliability matter. With their commitment to excellence, Kern is a DIN ISO 9001:2000 accredited company, always working to improve their products to meet the increasing demands of laboratory analysis.
About Tovatech LLC
Tovatech LLC is a distributor of laboratory equipment to the US, Canada, and Mexico. We specialize in digital scales, ultrasonic cleaners, and pharmaceutical laboratory equipment. Tovatech is staffed entirely by scientists who seek to aid other scientists in selecting the right laboratory instruments for their work.
Contact: Rachel Kohn, Director
Tovatech LLC
Telephone: 973-913-9735
E-mail: rskohn @ tovatech.com
Website: http://www.tovatech.com
###