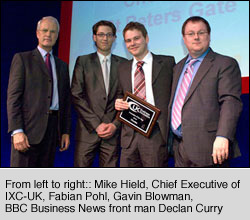 (PRWEB) December 11, 2007
UKBI, the UK's authority on the development and support of incubation environments, selected Chooba from a final shortlist of three companies to win the UKBI Incubatee of the Year Award 2007.
Gavin Blowman is the Creative Director of Chooba and attended an impressive award ceremony at Brighton's Grand Hotel last week with his business partner Fabian Pohl. Gavin and Fabian were presented with their award by the BBC's front man for business news, Declan Curry.
"As a brand new company that hasn't even launched its first product to the market place yet, we were absolutely over the moon to be told we'd won this fantastic award," explained Gavin. "A great deal of hard work, research, product development and branding has already taken place for Chooba, so even to be nominated for this award by St Peter's Gate was special to us - to win it is just unbelievable and everyone here at Chooba is extremely proud."
Chooba, which will be launching its all-natural and fun drink of the same name to a nationwide market via smoothie bars, cafes and coffee shops during Spring of 2008, was established by Fabian Pohl and Gavin Blowman in October 2006. Having experienced and enjoyed a similar chilled drink product, called Bubble Tea, while travelling in Australia, the two friends moved away from their chosen professions (international trader and graphic designer respectively) to pursue their entrepreneurial goal of creating a new chilled drink targeting the UK and European market.
"Chilled drinks similar to Chooba are incredibly popular in Asia, Australia, Canada and the USA, but have never been discovered in the UK - until now," continued Gavin. "However, concerned with the rising problem of obesity and the over availability of junk food, we wanted to make sure that Chooba was one hundred per cent natural and delivered health benefits rather than contributing to this worrying problem."
Malcolm Buckler, chief executive, UK Business Incubation said: "I'm thrilled that Chooba won the Incubatee of the Year Award. They demonstrated what business incubation is about: supporting creative individuals with innovative ideas into world class businesses. The support they have received from St Peter's Gate is second to none and I expect to be hearing great things of Chooba in the years to come. With the support of IXC-UK, who will be providing them with hands on support and networking them with experts in the field, these guys are sure to grow their idea into a fantastic business."
Chooba's drink will be launched in the UK during 2008 and will be the country's first chilled tea drink to feature delicious and 'Chooey' Cassava balls, known affectionately as Chooballs.
"Chooba is a truly innovative drink that will deliver health benefits and a source of naturally occurring goodness in a fun format," concluded Gavin. "We are really proud of our company and of the product, so to have won this award at such an early stage is an added bonus that we never expected to receive."
# # #