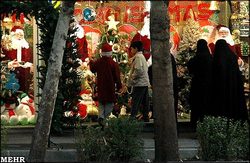 wise men from the east
Sunnyvale, CA (PRWEB) December 11, 2007
The Iranian Christian Church, under the auspices of International Antioch Ministries (IAM), will host "Christmas in Iran" celebrations at The Iranian Christian Church in Sunnyvale, Calif., during the evening of Saturday, December 15 and repeated the evening of Sunday, December 16. Open to the community, media are also cordially invited to attend this unique Persian holiday event with ethnic food, music by adults and children, and skits. The celebration will start at 6:00 pm with refreshments and end at 9:00 pm with a traditional Iranian feast.
The celebrations will be broadcast via IAM's satellite Iranian Christian TV (ICTV) so that Christians in Iran can participate from their homes or churches. Although the Iranian government allows "official" Christian sects to celebrate Christmas, they have been known to persecute those Iranians who have converted and worship non-denominationally. Thus, the celebration will also give thanks for the religious freedom we enjoy in America. Native Iranian ministry leaders, including Pastors Hormoz Shariat, Kamil Navai, and Nadareh Navai, will host the event.
Iran has a two thousand year history with the birth of Jesus. The "wise men from the east" who followed a star and brought gifts of gold, frankincense and myrrh to the Christ child are traditionally believed to have come from Iran. The word "Magi," which is used to describe the Three Wise Men in the Biblical account of the birth of Jesus, is a Persian word (see Matthew 2: 1, 7, 16). Thus, this celebration brings together ancient Iranian traditions with modern Christmas festivities, a combination rarely seen outside of Iran.
Event Information
Location: The Iranian Christian Church/IAM, 740 E. Arques Ave, Sunnyvale, Calif. 94085. Tel: + 1 408 732 7070. Schedule for Saturday, December 15 (with children's choir) and Sunday, December 16 (without children's choir) is: 6pm: traditional refreshments; 6:45pm-9:00pm: program of music, skits and message; 9:00pm: Iranian feast.
About International Antioch Ministries (IAM)
IAM is part of 24-hour satellite TV broadcasts into Iran (ICTV) that have been the catalyst for bringing some one million Iranian Muslims to Christ. IAM plants churches and trains Iranian-speaking Christian leaders for ministry. IAM's California-based church plant, The Iranian Christian Church, is the largest MBB (Muslim Background Believer) church in the USA. IAM is a non-denominational, non-profit 501(c)(3) organization devoted to fulfilling The Great Commission: first to Iranian Muslims and then to the rest of the Muslim world. Ministry supporters include CBN, VOM, Sammy Tippit and Joyce Meyer ministries. International Antioch Ministries, 740 E. Arques Ave., Sunnyvale, Calif. 94085. T: 408 732 5050, F: +1 408 732 7070. Visit IAM's web site in English or Persian, as well as IAM's YouTube Channel: IAM Online TV.
Media Contact: Agora Marketing & PR
Maxine Bingham, maxine(at)agorapr(dot)com, tel: +1 408 375 7702
# # #