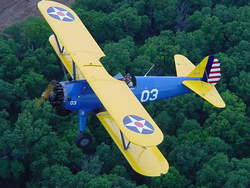 It was the best Christmas gift I ever got!
Centreville, VA (Vocus) December 11, 2007
Incredible Experiences, an innovative type of business offering experience gifts presents a new alternative in gift giving, promising to create a memory. They speak to the essence of the receiver letting them chose to fulfill a dream, live out a fantasy, or simply have fun. Experiences from Drive a Race Car to Fly a Biplane, or swing from a Trapeze provide an adrenaline rush, for the thrill seeker. Dining with an Astronaut, or Food and History Tours can provide a sense of personal growth and development. For those aspiring to stardom, spicy Salsa Dance Lessons or a Recording Studio Experience may be their perfect outlet.
Holiday gift giving can be a stressful event, where we ponder the question, as old as St. Nick himself -- what to get that person who has everything? Statistics show that 41% of people have a hard time even remembering what they got for Christmas last year, yet most remember the Christmas experience. It?s the experiences people remember and let?s face it; many people are tired of stuff.
Baby boomers are especially interested in more experiences and less stuff. Pam Danziger, Unity Marketing president states, "As you get older, you move from 'things' to 'experience' ... we turn from buying things to spending on experiences." Although relatively new to the United States, experience gift giving has major dominance in the UK and other countries and is gaining recognition in the US, as well. Consumers find that experience gifts can be fun and sporty or can provide enrichment and culture for any life style, any age on one convenient website. John Wright, an Fly A Biplane Incredible Experiences gift recipient raved, "It was the best Christmas gift I ever got!"
Matt Thornhill, President of Southeastern Institute of Research sums it up, "Once consumers hit about 50 and beyond they are less interested in becoming someone and more interested in being someone, in other words they are less interested in getting more stuff and more interested having more experiences."
Young adults like to get in the swing with experiences as well. Kelly Novak, a senior at Radford University said that her favorite birthday present was the Trapeze Experience. ?I was scared at first. My legs shook as I walked up to the platform, but I loved it and signed up for two more classes.?
Incredible Experiences is an exiting new website that has been featured in articles such as AARP news. Their exceptional presentation allows you to select experiences that you, your family and friends can enjoy in many price ranges. Originally oriented to the life style of the Rich and Famous, Mary Ellen Knecht, founder and chief experience officer, says that "even though the high end experiences are delightful and cherished, I found that my returning customers want a larger variety of experiences that they can try and they trust me to have prescreened all providers to offer the best experiences with the highest quality."
All experiences come gift boxed so giving an exceptional gift is incredibly easy.
Incredible Experiences offers a wide array of experience gifts sure to challenge, thrill, pamper and excite; an experience to fit every taste. Giving the gift of an experience, instead of more stuff, offers an impactful, lasting impression.
So when it comes to holiday gift giving . . . a new sweater or driving a race car? Humm.
About Incredible Experiences:
http://www.incredex.com
###