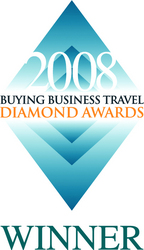 The Diamond Award is a significant achievement for BridgeStreet Worldwide
London, UK (Vocus) December 11, 2007
BridgeStreet Worldwide has received the Diamond Award for "Best Serviced Apartment Company 2008" at the Buying Business Travel Awards Ceremony held at the Hurlingham Club, London on Thursday 6th December 2007.
The Awards are seen as among the most valued and respected of all the accolades, representing the views of the industry's most important customers -- those who are responsible for securing the best service and value from suppliers.
BridgeStreet Worldwide was nominated by a panel of experts, comprising of top buyers representing companies and organisations of all sizes, and a team of leading business travel journalists. Readers of the magazine then had an opportunity to vote, both via the magazine and online.
"The Diamond Award is a significant achievement for BridgeStreet Worldwide," said Stephen Hanton, managing director EMEA and chief operating officer of BridgeStreet Worldwide. "It is an honour to receive this recognition from the Travel Industry in this relatively new segment. Serviced apartments are now being considered as a viable alternative for transient extended stay travellers in addition to our more traditional markets of relocation, project management and graduate recruitment"
BridgeStreet Worldwide is the largest serviced apartment provider in the U.K., providing contemporary furnished apartments in key areas of London, Manchester, Heathrow, Leeds and Birmingham with further growth throughout Europe planned for 2008. "As we have expanded our selection of serviced apartments we have maintained a rigorous approach towards client satisfaction and the highest levels of service which continue to attract business travelers," adds Hanton.
BridgeStreet Worldwide continues to drive its passion for quality by supporting the Visit Britain Grading system and were recently featured at their annual Stakeholder meeting on the 5th of December 2007. "Our goal is to ensure that all our managed properties are graded within the first year of implementation," notes Jo Layton, vice president sales and marketing for BridgeStreet's EMEA region. "We want to meet, maintain and exceed where possible the consistent standards set by a trusted and respected external body"
Buying Business Travel is the U.K.'s leading travel business publication serving travel and meeting buyers, decision-makers and arrangers.
BridgeStreet Worldwide is a leading international provider of corporate housing. BridgeStreet and its Global Alliance Program offer over 15,000 serviced apartments located throughout the United States and 50 cities internationally. An award winner both in the U.S. and Europe, BridgeStreet properties meet uncompromising standards of quality, comfort and service. For more information about the company or to learn more about how BridgeStreet is Making Serviced Apartments Easy, visit http://www.bridgestreet.co.uk or call +44 (0) 20 7792 2222.
Contact:
Omar Hadjel
+44 (0) 20 7313 2824
###