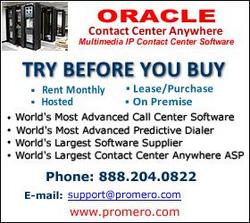 Oracle's Contact Center Anywhere transaction model will revolutionize www.promero.com [communication software] licensing in the future
Pompano, FL (PRWEB) December 13, 2007
Promero today announced a carrier-class communication software, which offers a licensing model that does not charge call centers for individual users or per seat. Historically, call centers have licensed communication software by charging a fee for the number of users, as well as additional charges for predictive dialers, recording modules and other advance features.
With Contact Center Anywhere's transaction based licensing model, there is no charge for users or number of agent seats. The product is a IP multi-channel communication software. There is no additional charge for enhanced features such as predictive dialing, call recording, IVR, ACD, call routing, SIP capability or any of the more than 100 enhanced features that are native to the software platform.
The transaction model is ideal for government bodies, universities, financial institutions, manufacturers, healthcare providers, large call centers, global companies with large groups of employees in multiple locations. Companies with 250 or more employees that want enhanced communication features can spend millions of dollars providing a unified platform to its entire group. With Oracle's Contact Center Anywhere, the total cost of ownership is a small percentage when compared to like products.
"Oracle's Contact Center Anywhere transaction model will revolutionize communication software licensing in the future," stated Gregg Troyanowski, president of Promero. 'One recent Promero client who initially budgeted $2 million to upgrade its communication software saved over 80% by selecting the Oracle product.'
Promero is the only Oracle Certified Partner that offers a 'Try Before You Buy' trial program for Contact Center Anywhere. The unique trial program includes training and full access to the hosted platform made available through Promero's network operations center. Full system features, metrics and efficiencies can be evaluated during the trial period which will enable the client to make an educated buying decision.
Founded in 2001, Promero is a leading application service provider of Internet-based call center CRM and lead management software. Promero is a Worldwide Oracle PartnerNetwork Certified Partner. Promero headquarters is located in Pompano, Florida. Telephone: 954-935-8800. Toll free 888-204-0822. For more information about the latest communication software, please visit http://www.promero.com.
# # #