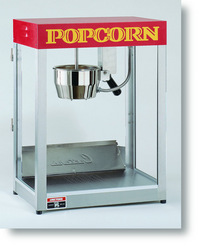 Chicago, IL (PRWEB) December 12, 2007
C. Cretors and Company, the leading designer and manufacturer of food processing and concession equipment for over 120 years, offers a line of 6 oz. small popcorn machines designed to bring the movie theater popcorn experience to the home theater. Perfect for holiday gifts, this nostalgic line includes the Nite Club, which is available with custom glass etching, and the Goldrush, which is offered with an antique hand-painted scroll.
Easy to use popcorn machine for the home theater:
Each popcorn machine features a plug-in, clean-in-place kettle for easy cleaning and quick kettle change-out. For ease of use, a cycling pilot light indicates when the kettle is ready to begin popping, and an eye-level lighted rocker switch indicates when the popcorn machine is in use. A direct drive agitator provides longer motor life with no exposed gears to replace. Each popcorn machine also features a thermostatically controlled heated corn deck.
Nostalgic holiday gifts for the home theater:
A range of available options for each home theater popcorn machine includes a single push "One-Pop" button that heats the kettle, pops the corn and shuts off after one popping cycle. This safety feature eliminates the potential for overheating. Other options include stainless steel kettles and tops and a one-pop option with counter for recording the number of popping cycles. Making it a versatile holiday gift, each popcorn machine is outfitted with a salt/sweet switch to make both sweet and savory popcorn, and custom painting to fit with home theater decor.
About C. Cretors and Company
Established in 1885, C. Cretors and Company is the leading designer and manufacturer of food processing and concession equipment providing a complete range of innovative foodservice solutions to companies around the world. A renowned industry innovator, in 1885 Cretors introduced the first patented steam driven popcorn machine that popped corn in oil. Since 1967, Cretors' Food Processing Division has offered a patented continuous production line featuring a hot air fluidized bed oven for high-volume popcorn production.
Over the company's long and storied history, its Foodservice Division offerings have expanded to include machines that produce and/or dispense cotton candy, nachos, caramel corn, and hot dogs, topping and dispensing equipment as well as warming and display cabinets. Today, Cretors continues to reinvest in research and development to ensure constant improvements in everything from equipment manufacture to customer responsiveness to distributor network communications.
For more information about Cretors' services and products, please visit http://www.cretors.com.
###