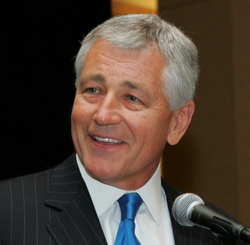 Senator Hagel's record speaks for itself
Washington, DC (PRWEB) December 12, 2007
The American Security Project (ASP) this week announced that Senator Chuck Hagel (R-NE) will join its bipartisan Board of Directors.
Senator Hagel, a two term Senator from Nebraska, joins an accomplished group of national security leaders, including fellow Vietnam veterans Senator John Kerry (D-MA), General Anthony Zinni (USMC, Ret.) and former Bush administration official Richard Armitage, who are working together to build consensus around a new strategy to enhance American security and improve U.S.-foreign relations around the world.
The second ranking Republican on the Senate Foreign Relations Committee and a member of the Senate Select Committee on Intelligence, Hagel is known for his tough-minded independence and experience on national security.
"Senator Hagel's record speaks for itself," said Senator Gary Hart, the former Colorado Senator and ASP's President and Chairman. "His willingness to question assumptions and his courage to speak difficult truths are qualities that are needed to end the paralysis that dominates the discussion of national security issues today. He has been an eloquent advocate for the use of all the instruments of American power and we enthusiastically welcome him to the board."
Senator Hagel, who announced this fall that he will leave the Senate at the end of his current term, recently told the Council on Foreign Relations that among the most important lessons of the Iraq conflict is that the U.S. requires "a strengthening of alliances and relationships that we have never known before." He also stressed that it is time to move toward "consensus governance in foreign policy."
"The world faces challenges and opportunities today that carry with it implications well beyond this moment in time. The United States must employ comprehensive strategies that use all of its tools of influence within its foreign policy arsenal to build a 21st century frame of reference to deal with these challenges. Initiatives such as the American Security Project are relevant and important in helping provide the dialogue and knowledge that will successfully prepare our country for the future," Hagel said.
The American Security Project (ASP) is a non-profit, bipartisan public policy research and education initiative dedicated to fostering knowledge and understanding of a range of national security and foreign policy issues. It is organized around the belief that honest public discussion of national security requires an informed citizenry--one that understands the dangers and opportunities of the twenty-first century and the spectrum of available responses. ASP was formed to help Americans--from opinion leaders to the general public--understand how national security issues relate directly to them, and to explain challenges and threats in a way that spurs constructive action.
###