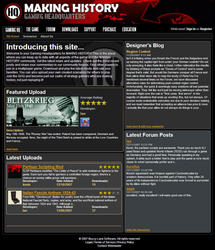 Gaming Headquarters is a place to expand the game experience
Newburyport, Mass. (PRWEB) December 12, 2007
The popular strategy game Making History: The Calm & the Storm now offers a comprehensive, one-stop web experience where gamers can post and share mods, access all the game's latest software updates, and talk with developers about game features.
With its recent 2.0.3 version upgrade, Making History offers substantially improved game editing tools, allowing users to do everything from altering terrains and regions to conjuring entirely new historical scenarios.
The new Making History Gaming Headquarters is located at: http://www.making-history.com.
"Gaming Headquarters is a place to expand the game experience," says Chris Parsons, Product Manager for Making History. "We trialed the site for a few weeks with our core users and have already seen some really interesting mods. One player created a Cold War scenario; another split the United States in half and created the Confederate States of America, which really changed the power structure in North America during WWII. The cool thing is that everyone can score and even write reviews for all the different mods. Besides being able to download and play the new scenarios, players can even 'mod the mods' to customize and improve on them for themselves and others to use. Players can also create and share art assets, music and sounds."
In addition, the new Gaming Headquarters site features a Designers Blog where the creators of Making History discuss game features and maintain an ongoing dialog with users. Access to the user forum -- and a convenient rolling summary of forum postings - is also available on the home page.
About Muzzy Lane Software:
Muzzy Lane Software is an innovative developer of 3-D multiplayer games. Based in Newburyport, Mass, the company creates its own branded games and works with partners to produce private-label games used in a variety of industries. Muzzy Lane's flagship release, Making History: The Calm & the Storm, takes a fresh new approach to multiplayer computer games, combining a flexible 3-D game engine with high-fidelity content that allows players to engage the turning points in history as if they were there. For more information, visit http://www.muzzylane.com.
###