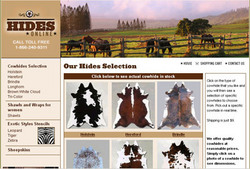 Hidesonline.com is now the only website with individual photos of the cowhide rugs available for purchase online
Washington, DC (PRWEB) December 12, 2007
Hidesonline.com, online retailer of quality cowhides, zebra rugs and sheepskins, is now enabling customers to select and view the exact products they wish to purchase before making a purchase. For example, customers interested in shopping for cowhide rugs may visit Hidesonline.com, navigate the website in real time for the style of cowhides they want, view and purchase the exact item that will be sent to their door.
The new function came about after receiving E-commerce consulting from MTK Advisors. "Hidesonline.com is now the only website with individual photos of the cowhide rugs available for purchase online," explains Morgan Kelleher, Partner at MTK Advisors, Strategic Consulting. "The website allows customers to select specific cowhides, zebra rugs and sheepskins."
This new function is particularly useful to a company like Hidesonline.com, the web based store of Silverado Trading Company, in which no two products are alike since each cowhide is unique. Hidesonline.com offers top quality cowhides in every color that can be fashioned into cowhide rugs, ottomans, bar stools, benches, wall hangings, pillows, couches, bags, shoes, chaps, etc., and each cowhide has its own natural characteristics, now available for viewing before purchase.
The one thing all of Hidesonline.com's western home décor has in common is the rigorous inspection process each hide undergoes before sale. All of Hidesonline.com's cowhides are tanned in Brazil, and undergo a chrome hide tanning process that began in Italy and was later perfected in Brazil. The process results in soft, flexible leather cowhides with rich and natural colors. Each is inspected for crease marks and flaws in texture before Hidesonline.com agrees to stock them.
Hidesonline.com traces its origins from the Freed Company Store in downtown Albuquerque, which was established in 1920. Over time, the store became synonymous with quality merchandise. Today, Silverado Trading Company and its e-commerce store, Hidesonline.com, serve customers throughout the United States, Canada, Europe, Japan, Australia and New Zealand, and are constantly updating their website with new content and functionality. For more information, visit Hidesonline.com.
About Hidesonline.com:
Hidesonline.com is the web based store of The Silverado Trading Company, located in Old Town Albuquerque, NM. Hidesonline.com offers classic cowhides and sheepskins of the highest quality. Contact Rick Manthei for more information.
###