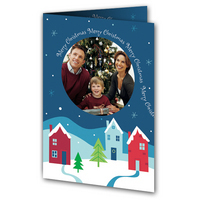 The new photo cards offer the perfect blend of convenience, personalization and quality
Cleveland, Ohio (PRWEB) December 13, 2007
Here's a little surprise for consumers just in time for the holidays. AG Interactive, Inc., the eCard division of American Greetings Corporation (NYSE: AM), has launched a new line of seasonal cards that folks will soon discover in their mailboxes -- their postal mailboxes.
In an effort to provide consumers with the latest in personalized service, American Greetings.com now offers customizable photo paper cards for the holiday season. The photo greeting cards feature a wide selection of designs created by American Greetings' legendary staff of artists. In addition, the photo cards are highly finished and printed on heavy stock to give them a professional look and feel.
Consumers can choose from more than two-dozen styles -- traditional, contemporary, etc. -- for Christmas, Hanukkah and general season's greetings. Once they have made a selection, consumers can include their own high-resolution photographs and personal messages. They will receive the finished holiday photo card in a few short days.
This is a truly unique opportunity for consumers -- the chance to combine their personal photos, messages and vision with a wealth of American Greetings experience.
"The new photo cards offer the perfect blend of convenience, personalization and quality," said Sally Babcock, Senior Vice President/General Manager, AG Interactive. "They're beautifully designed on premium card stock. We believe our customers will be proud to send these cards."
Consumers can find the full line of customizable photo cards at AmericanGreetings.com/photocards.
About AG Interactive
AG Interactive (AGI), a subsidiary of American Greetings Corporation (NYSE: AM), is a global leader in licensing and creating original self and social expression products for online, instant messaging and mobile platforms. To create its premier content, the company leverages one of the world's largest creative studios and digital library of award-winning expressive content as well as an extensive international distribution capability. AGI attracts more than 30 million unique visitors per month in 18 countries to its popular websites AmericanGreetings.com, BlueMountain.com and Egreetings.com as well as through Instant Messaging or online partnerships with AOL, MSN, and Yahoo!. The company has one of the largest online subscription services with over 3.6 million paying subscribers. For more information, visit aginteractive.com.
About American Greetings Corporation
American Greetings Corporation (NYSE: AM) is one of the world's largest manufacturers of social expression products. Along with greeting cards, its product lines include gift wrap, party goods, stationery, calendars, ornaments and electronic greetings. Located in Cleveland, Ohio, American Greetings generates annual revenue of approximately $1.7 billion. For more information on the Company, visit corporate.americangreetings.com.
# # #