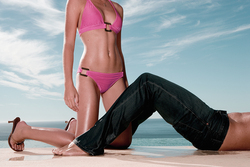 We have three levels of verification at FlingFinder
Sydney, Australia (PRWEB) December 12, 2007
Friendly new dating site FlingFinder is paving the way to safer online fun for singles, and it's not a moment too soon!
Gone are the days of meeting up with potential partners you uncovered in a chat room, only to discover that your 30-something blond doctor is really a 50-something, balding hypochondriac. Or worse, an automated computer response set up to entice the unsuspecting in to joining yet another costly dating site.
The new wave of digital romance features verified profiles, comparable numbers of male and female members, professional staff, and a safe place to explore everything online dating has to offer. With a huge list of fiercely loyal members that's expanding every day, everyone is jumping on the FlingFinder bandwagon; a totally chic approach to dating.
One of the things that sets FlingFinder apart from the other online romance options is that you always know who you're talking to. FlingFinder has in place several different ways of ensuring the authenticity of the profiles created using their site.
FlingFinder founder and administrator Adam Hannah, known to his members as "oodlum", says that when it comes to digital love, it's always safety first. "We have three levels of verification at FlingFinder," he offers, "photo verification, legal ID verification and credit card verification. These are all optional, of course, but we encourage high rates of verification by offering incentives such as extra membership features and, currently, a $5000 overseas holiday competition which only verified members can enter."
Hannah says that FlingFinder is so effective, because it's not a huge 'production line' style business aimed at earning piles of cash for the bigwigs; its focus is to be friendly, open, and above all to remain personal. "We like to check through all the profiles manually to spot scammers, and keep in touch with what our members want to get out of the site. I even come into the chat room myself sometimes and chat to the members!" he laughs. "But really what its about is making sure its always a personalized service and that everyone feels individually looked after."
FlingFinder has been a true labour of love for Hannah, who says says he noticed a sizeable gap in the market and seized his opportunity. "I noticed there was quite a lot of dissatisfaction with the other adult dating sites out there," he explains, "including a major imbalance of genders, misrepresentations of member numbers (they say they have a billion members but only a tiny percentage are actually active), an abundance of fake profiles, members getting hassled by people who don't match their preferences... the list goes on."
FlingFinder is a fun, safe way to meet people, form friendships, relationships and maybe even something more… pretty much whatever takes your fancy. And you can relax, knowing that the person your talking to really is as good as they sound! What girl could say no to that?
###