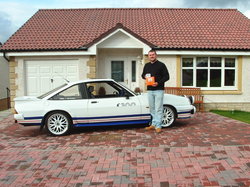 When you're trying to insure a rarity, it's hard for most insurers to put a value on it, because most of them rely on book value, and there aren't enough examples to give an accurate book value
(Vocus) December 12, 2007
The stunning classic 1984 Opel Manta of Brian McClure has just won Top Ride for 2007 in a national competition organised by insurance specialist Herts Insurance Consultants (HIC).
The Top Rides competition featured hundreds of classic and modified cars, all entered by their owners. Brian's Manta was declared the 'HIC Rides car of the year', with more website traffic, chatter and admiring comments than any other.
Brian's prize was a TomTom satellite navigation system - his first satnav, and something that would have seemed like magic when the Manta was built 23 years ago. After a long drive from his home in Gourock (central Scotland) to Wales earlier this month he's already had a chance to discover the joys of being innocently directed the wrong way up one-way-streets, down dead ends or the long way round short cuts!
Brian's Manta is a stunning car, originally created by Opel specialist dealer Steve Thompson Cars Ltd, of Walsall, using Irmscher parts. The current spec includes a heavily modified Calibra turbo engine, uprated exhaust and adjustable suspension. Only 25 were made, and Brian's car has had five or six previous owners, all of whom adored it and really looked after it. It's still immaculate in its original livery of the Rothmans motor racing sponsorship (remember that?) - white with blue 'go-faster' 1980s stripes, a real period piece.
Getting insurance on such a cherished and rare car wasn't an easy process, says Brian. "When you're trying to insure a rarity, it's hard for most insurers to put a value on it, because most of them rely on book value, and there aren't enough examples to give an accurate book value," he commented.
When Brian approached HIC he was immediately impressed. "All the people I spoke to there were knowledgeable about motors and really helpful," he says. "They didn't just use book value, they used their own knowledge. That's not been my experience of most other insurers."
Because of this expert knowledge HIC were able to discuss an agreed value for the car, and knew what the modifications meant in insurance terms.
"Agreed value was critical," said Brian. "HIC looked at my photos, my description and the history of the car and agreed very quickly. They gave me by far the best deal."
Winning the HIC Rides gallery is the icing on the cake for this Manta, which has featured in several magazine spreads, and won Best Car at the Irvine show as recently as August 2007.
HIC Rides is an opportunity for car enthusiasts of all 'stripes' to show off their motor and have fellow enthusiasts vote on the favourite. Next year's competition is already under way, with a top prize of two tickets to the 2008 British Grand Prix at Silverstone.
On HIC Rides, you are the judges. The winner is simply the most magnetic car, the one that draws the most attention.
HIC is the enthusiast's car insurer with a passion for motoring that translates into great deals on car insurance. For more information visit http://www.hertsinsurance.com or call 08451 290290.
HIC Rides 2007 winner Opel Manta.doc – Dec-07
Press Enquiries:
Toni Turner or Alison Haynes at The Publicity Works:
Tel: (01263) 761000
Email: HIC(at)publicityworks.biz
Andy Morton of HIC: 08451 290290
Editor's notes:
A detailed description of Brian's Opel Manta I200 is available on http://www.mantaclub.org/archive/manta_b_i200.htm
###