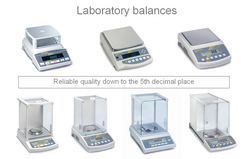 South Orange, NJ (PRWEB) December 13, 2007
Tovatech LLC announces the full Kern Line of Analytical Balances, now available in the United States for the first time. The Kern name has been synonymous with German precision weighing for 160 years. With bench scales, platform scales and precision industrial models, there is a Kern Electronic Balance for virtually any laboratory. All with easy-to-read digital displays. All crafted with German engineering for the quality needed for lab analysis. And all designed with an understanding of today's leaner budgets.
A Kern Analytical Balance includes piece counting, data interface and hook-up for GLP/ISO record keeping as standard on all models.
The ABS/ABJ models have weighing capacities ranging from 83 to 220g with 0.1mg readout. These are sturdy, robust weighing instruments for precision work.
The ALT models, with capacities from 100 to 310g and readouts of 0.1 and 0.01mg, find use in dosing and sorting. Equipped with filters to minimize vibrations, the ALT lab scale can be used for animal weighing. The ALT simplifies repetitive weighing to a predetermined value within a defined tolerance range. Extensive memory, statistical functions and choice of language allow these models to be tailored to exact laboratory protocols.
Kern offers the ABT analytical balance for the highest performance in the industry. Still priced well below comparable models, these units feature fast stabilization and an innovative single-cell weighing system. This advanced design ensures accurate weighing of samples placed even at the edge of the pan. Labs can select from balances with capacities from 120 to 320g including semi-micro models.
In today's lab, cost has become an important feature of any lab equipment. Weighing valuable samples cannot be compromised by using low-budget, low-tech tools. Kern's comprehensive line of Analytical Lab Balances provides the cost and quality tandem expected from the finest precision scale.
About Kern and Sohn, GmbH
Kern and Sohn, GmbH has been a leader in precision balance manufacturing for over 160 years. Kern balances are used worldwide wherever quality and reliability matter. With their commitment to excellence, Kern is a DIN ISO 9001:2000 accredited company,always working to improve their products to meet the ever-increasing demands of laboratory analysis.
About Tovatech LLC
Tovatech LLC is a distributor of laboratory equipment and ultrasonic cleaners to the US, Canada and Mexico. Tovatech is staffed entirely by scientists who seek to aid other scientists in selecting the right laboratory instruments for their work.
Contact: Rachel Kohn, Director
Tovatech LLC
Telephone: 973-913-9735
E-mail: rskohn(at)tovatech.com
# # #