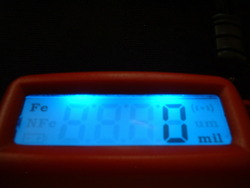 You wouldn't buy a cell phone with an illuminated key pad, why would anyone buy a paint meter with out a lighted display?
Gulf Shores, AL (PRWEB) December 13, 2007
Car Dealers have used a "secret tool" for years which tells them if the car you are trading in has been damaged and re-painted. Known as a paint meter, and smaller than a pack of cigarettes, this electronic device tells car dealers the thickness of the paint on a car or truck. Now, savvy car buyers are turning to FenderSplendor to get the same advanced technology and avoid costly mistakes. Secret Tool
FenderSplendor President, Allen Willey said he first noticed retail car buyers using paint meters when he introduced the affordable FS 488 Paint Meter in 2006. Until FenderSplendor introduced the FS 488 most paint meters were $700 or more. Initially, only dealers buying expensive cars were willing to pay the high price for a paint meter. "When we lowered the price to under $400 the orders started pouring in. After a year or so, I realized that we were also getting orders from actual car buyers, not just car dealers."
"When you consider the fact that most 2 and 3 year old Mercedes, BMW and Lexus automobiles sell for over $30,000 it actually makes sense for a car buyer to have a FenderSplendor Paint Meter." Car Dealers learned years ago that missing paintwork (hidden damage) on a car could easily cost them $1,000's of dollars. find hidden damage
Willey, a former new car dealer himself, selling everything from Toyota to Rolls Royce, said he first discovered paint meters about 7 years ago when he was buying Jaguars at an auction in Detroit -- in the middle of a snow and sleet storm. "I quickly realized that I needed extra help finding paintwork on the cars I was buying and looked for a good paint meter.
"After using the paint meter for a while I figured I could sell them and struck a deal with the manufacturer to become a distributor. After another year, we realized that no one really understood what a car dealer needed, so we designed our own gauge, the FS 488." We knew exactly what the dealers wanted and within 18 months we sold over 3,600 FS 488s." "Offering the gauge on the website Lighted FS 488 Paint Meter helps us sell at a price everyone can afford."
Several months ago, FenderSplendor announced the 2008 FS 488 with an Ice Blue Illuminated Display. " A lot of cars are bought and sold at night, and it makes sense to be able to see the meter." "You wouldn't buy a cell phone with an illuminated key pad, why would anyone buy a paint meter with out a lighted display?"
Willey concluded by saying that the Christmas Special which includes a free MP 4 player has been the most successful promotion ever. Details are available at Christmas Paint Meter Special
###