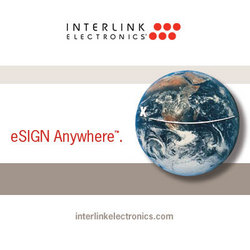 Mr. Vesling has spearheaded the company's growth in both the e-Transactions and Specialty Components business segments
Camarillo, CA (PRWEB) December 13, 2007
Interlink Electronics, Inc. (OTC:LINK.PK) announces the appointment of Mr. Rodney G. Vesling as Senior Vice President for the company's e-Transactions business segment and officer of the Company. For the last seven years, Mr. Vesling has held the position of Vice President, Sales and Marketing for the Company's e-Transactions and Specialty Components business segments.
"Mr. Vesling has spearheaded the company's growth in both the e-Transactions and Specialty Components business segments," said E. Michael Thoben, Chief Executive Officer of Interlink Electronics. "In his new role, Mr. Vesling will direct his efforts on managing the continuing development of the growing e-Transactions business segment, including sales and marketing, product development and customer support on a worldwide basis."
Prior to joining Interlink Electronics, Mr. Vesling served as Vice President of OEM Sales and Strategic Initiatives for Plasmon (formally LMS, a division of Philips Electronics). Prior to working for Plasmon, Mr. Vesling was employed by the Eastman Kodak Company, where he held several senior positions, including positions in sales and marketing and business development.
Mr. Vesling earned his Masters in Business Administration from the William E. Simon Graduate School of Business, University of Rochester, New York. He has an Economics degree from St. Lawrence University, Canton, New York.
About Interlink Electronics Inc.
Interlink Electronics, Inc. (LINK.PK) provides the financial services industry as well as the healthcare and government sectors with the electronic signature platform needed to eliminate paper from critical business processes. Interlink's complete solution including e-signature software, hardware and services allows organizations to implement end-to-end electronic processes no matter where the signing takes place: in-branch, in-the-field or online. Interlink Electronics is also known for its family of MicroNav products, powered by the company's patented Force Sensing Resistor (FSR) technology and integrated in handheld consumer electronics devices. Headquartered in Camarillo, California, Interlink Electronics, Inc. also has offices in Japan, Hong Kong and China. http://www.interlinkelectronics.com/esign
For information, please contact:
Nathalie Benoit
Interlink Electronics, Inc.
805-279-2750
For Investor Relations information, please contact:
Michelle Lockard
Interlink Electronics, Inc.
805-484-8855 ext. 114
All registrations and trademarks are properties of their respective owners. IntegriSign is a registered trademark of Interlink Electronics, Inc. This release contains forward-looking statements that involve a number of risks and uncertainties. The following are among the factors that could cause actual results to differ materially from the forward-looking statements: business conditions and growth in the electronics industry and general economies, both domestic and international; lower than expected customer orders; delays in receipt of orders or cancellation of orders; competitive factors, including increased competition, new product offerings by competitors and price pressures; the availability of third party parts and supplies at reasonable prices; changes in product mix; significant quarterly performance fuctuations due to the receipt of a significant portion of customer orders and product shipments in the last month of each quarter; problems or delays in reporting our results of operations to the public; and product shipment interruptions due to manufacturing problems. The forward-looking statements contained in this document regarding industry and review trends, industry product and technology acceptance, product mix and future business activities should be considered in light of these factors.
# # #