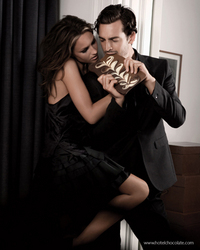 (PRWEB) December 14, 2007
With the festive holidays just around the corner, gourmet chocolate company Hotel Chocolat is celebrating its recent launch in the US by offering readers a chance to win a selection of gourmet Christmas chocolates.
Hotel Chocolat's Christmas Chocolate Challenge launches today across five US blogs offering the winners a chance to try these luxurious chocolates.
The 5 partnering blogs are:

polliwogspond.com/
kineda.com/
chocolatechipped.com/
thesassysoutherner.com/
thechocolatereview.net/
All you have to do is visit one or more of these sites and answer a series of Christmas and Hotel Chocolat related questions. These will lead you on an online hunt for a Secret Code. The answers can be found on various sites as well as the Hotel Chocolat website, hotelchocolat.com. To find the secret code, simply put the first letter from each answer together. It's as easy as that!
All correct answers will be entered into the grand prize draw to win a variety of Christmas chocolates.
The Hotel Chocolat Chocolate Challenge will close on December 18, 2007.
About Hotel Chocolat:
Hotel Chocolat, the UK chocolate retailer, was founded over fourteen years ago by entrepreneurs Angus Thirlwell and Peter Harris with a vision of making chocolate exciting again for UK consumers bored by the mediocrity of what was available in supermarkets and on the high street.
Using quality authentic ingredients is an ethos that has been fundamental at Hotel Chocolat since the beginning and the 'no nasties' approach bans the use of additives such as hydrogenated vegetable fat and artificial colours in order to let the pure chocolate flavors and aromas through.
hotelchocolat.com
Contact:
Leo Kellgren
immediate future Ltd
T: +44 845 408 2031
Leo.kellgren @ immediatefuture.co.uk
immediatefuture.co.uk/
###