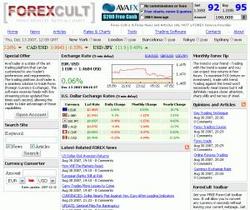 We wish all our members with Good Luck trading and gaining the position and are waiting for more feedbacks.
New York, NY (PRWEB) December 17, 2007
ForexCult Group has launched ForexCult.com, Foreign Currency Trading Portal that features News, Downloads, Ratings and most recent information for the Forex Trading market.
"The post production website that we were running two months ago was a major success! We have seen over 5000 hits a day from Forex Traders who used our services to pick the news and charts using our beta tool that is rating Forex trading platforms" mentioned Greg Weinstein, Editor of ForexCult.com Forex Trading portal, "The experience of choosing a Forex Platform that is comfortable and both secured and reliable is about to change, the Forex Traders are looking for a reliable source of information that actually rate the Forex Trading platforms more than in just a few words, ForexCult.com Portal features: updated news, downloads, detailed reviews for most of the Forex Trading platforms, charts, graphs, technical analysis, multilingual support and much more" commented Weinstein.
The ForexCult.com Forex Trading Portal features a rich design and new ideas that will boost the experience while choosing a Forex Trading platform, The foreign exchange trading market in growing rapidly in the world wide web more and more platforms are popping out and providing the non conservative way of real time foreign exchange trading available 24H a day, the old days when you used to trade between 9-5 in your local bank branch are over. The ForexCult.com system, which was planned and tested a year ago is able to take all the news and provide only what's important to the common Forex Trader, the production system was introduced 9 months ago monitoring all available news sources and platforms, checking for important issues using probability algorithms to determine when is the best time to enter a position and in which currency.
Also, to make the website even more accurate in regards of news, a comments system was implemented to include the human factor in calculations as well, providing a 100% fully reliable infrastructure to rate news items and Forex Trading platforms.
Other than rating, ForexCult.com Forex Trading Portal also features: tools, professional articles that cover most of the issues related to trading foreign currency, foreign exchange glossary, rates, charts and much more.
"We have received very good feedbacks from Forex Traders who are using ForexCult.com and used our unique way of providing the information to the newly developed online market, I can definitely say that the Forex Traders took the advantage while they are sharing their experiences with us about the Forex Trading platforms they used for the good and the bad." commented Weinstein "We wish all our members with Good Luck trading and gaining the position and are waiting for more feedbacks."
Website: http://www.forexcult.com/
###