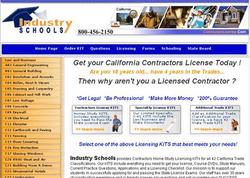 San Jose, CA (PRWEB) December 14, 2007
With industry trends shifting from the classroom setting to home study courses, students oftentimes find it difficult to find appropriate and reliable materials to utilize when studying at home. However, passing the state contractor's licensing exam has been made easy with Industry Schools's new California Contractors Licensing School website, IndustrySchools.com. Providing Home Study KITS for all 42 classifications, Industry Schools is ideal for those seeking their contractor license in California. Additionally, Industry Schools announces a free premium product for 2008, Crash Course on CD.
Home study can be more efficient and cost-effective if students employ the proper materials. Industry Schools's new website is informative and easy-to-use. By developing an exclusive product that can help building professionals efficiently prepare and pass their state contractors exams, Industry Schools is able to offer a more cost-effective solution to studying for licensing exams.
New in 2008, the premier Crash Course on CD is included with each Contractors License Trade KIT. These KITS are specifically designed for diligent students and professionals who are studying for their California contractor license.
Owner and administrator of Industry Schools, Gary Fiehmann, explains, "Our Crash Course CDs are the most valuable study tool that a professional can get to help them pass their state contractors exams. Along with each Crash Course on CD, our KITS contain both Law & Business and the specific trade course. Each course includes a live recording of the class on DVD, CD, or both. Study manuals complement the class lectures and include hundreds of practice exam questions with answers and thorough explanations."
These simulated practice exams are available for the future contractor to access on their computer. Timed to help provide a similar experience to the state exam, these trade based crash courses contain 300-500 practice questions with four possible answers. With the percentage correct at the end of each test, the program displays the questions the student missed with the correct answers. The program randomizes the questions and the test can be re-taken as many times as needed. Exclusively designed as preparation for the California contractor license exams, these KITS also include all applications, forms, and study materials that professionals and students may need to receive their license.
To learn more about Industry Schools or preparation for getting a contractor license in California, please visit IndustrySchools.com.
About Industry Schools
With over 35 years of experience, Industry Schools, originally ContractorsLicense.com, is one of the first schools to provide quality online home study courses to students and building professionals. With a goal to provide personal professional service and experienced support to each California student studying for their contractor licensing exam, Industry Schools provides a current and complete Home Study KIT. These KITS include everything a future contractors need to receive their California State License.
###