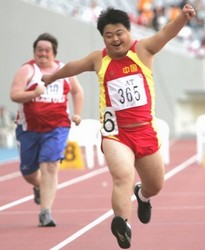 Standardization of applications, metadata and workflows provides tremendous opportunity to leverage economies of scale and to craft future collaboration opportunities
Charleston, S.C. (Vocus) December 13, 2007
Blackbaud, Inc. (NASDAQ: BLKB), announced today that it has entered into an agreement with Special Olympics that provides 52 U.S. state Programs with an endorsed solution for their business and development office. According to André Mendes, Special Olympics vice president and chief information officer, the international organization has seen the benefits of Blackbaud solutions at the state Program level and wants to replicate that success organization-wide.
"Standardization of applications, metadata and workflows provides tremendous opportunity to leverage economies of scale and to craft future collaboration opportunities," said Mendes. "Our partnership with Blackbaud will make it easier for state Programs to deploy the leading fundraising and accounting packages and represents a major step toward that standardization."
Special Olympics provides year-round sports training and athletic competition to more than 2.5 million people with intellectual disabilities in more than 165 countries. Currently, Special Olympics' headquarters and many of its state Programs use Blackbaud solutions. From a headquarters perspective, the organization looks forward to increasing efficiency of reporting and operations. The new agreement also provides state Programs with proven methods to standardize and enhance their fundraising and accounting practices.
For many state Programs, adoption of Blackbaud solutions will represent a shift from antiquated for-profit systems towards modern nonprofit systems. Blackbaud's fundraising and financial management solutions, The Raiser's Edge and The Financial Edge, will help Special Olympics Programs throughout the country increase accountability while personalizing fundraising efforts and increasing efficiency of communications with supporters.
"We are excited about expanding our relationship with Special Olympics. In today's competitive marketplace for donor dollars, nonprofit organizations need to ensure that they maximize the amount of funds raised and manage those funds appropriately," said George Durney, Blackbaud's vice president of core sales. "Special Olympics is a supporter of a great cause and we see technology as the great enabler that will allow its development efforts to finish first in a very important race."
About Special Olympics
Special Olympics is an international nonprofit organization dedicated to empowering individuals with intellectual disabilities to become physically fit, productive and respected members of society through sports training and competition. Founded in 1968 by Eunice Kennedy Shriver, Special Olympics provides year-round sports training and competition to 2.5 million adults and children with intellectual disabilities across 165 countries. The Special Olympics movement offers one of the world's greatest platforms for acceptance and inclusion for all people--regardless of race, religion, ethnicity or cultural differences. Corporate sponsors of Special Olympics include: adidas, Bank of America, The Coca-Cola Company, DHL, Mattel, Inc. and Mattel Children's Foundation, and Starwood Hotels & Resorts Worldwide. For more information, visit http://www.specialolympics.org .
About Blackbaud
Blackbaud is the leading global provider of software and services designed specifically for nonprofit organizations, enabling them to improve operational efficiency, build strong relationships, and raise more money to support their missions. Approximately 19,000 organizations — including the American Red Cross, Dartmouth College, the WGBH Educational Foundation, Episcopal High School, Lincoln Center, Cancer Research UK, Special Olympics, and Arthritis Foundation — use one or more of Blackbaud products and services for fundraising, constituent relationship management, financial management, direct marketing, school administration, ticketing, business intelligence, website management, prospect research, consulting, and analytics. Since 1981, Blackbaud's sole focus and expertise has been partnering with nonprofits and providing them the solutions they need to make a difference in their local communities and worldwide. Headquartered in the United States, Blackbaud also has operations in Canada, the United Kingdom, and Australia. For more information, visit http://www.blackbaud.com .
Media Contacts:
Melanie Milonas
Blackbaud, Inc.
melanie.milonas(at)blackbaud.com
843.216.6200 x3307
Shavonne P. Harding
Special Olympics
sharding(at)specialolympics.org
202.824.0201
Source: Blackbaud
Forward-looking Statements
Except for historical information, all of the statements, expectations, and assumptions contained in this news release are forward-looking statements that involve a number of risks and uncertainties. Although Blackbaud attempts to be accurate in making these forward-looking statements, it is possible that future circumstances might differ from the assumptions on which such statements are based. In addition, other important factors that could cause results to differ materially include the following: management of integration of recently acquired companies and other risks associated with acquisitions; risk associated with successful implementation of multiple integrated software products; lengthy sales and implementation cycles, particularly in larger organizations; uncertainty regarding increased business and renewals from existing customers; continued success in sales growth; the ability to attract and retain key personnel; risks related to our dividend policy and share repurchase program, including potential limitations on our ability to grow and the possibility that we might discontinue payment of dividends; risks relating to restrictions imposed by the credit facility; risks associated with management of growth; technological changes that make our products and services less competitive; and the other risk factors set forth from time to time in the SEC filings for Blackbaud, copies of which are available free of charge at the SEC's websites at http://www.sec.gov or upon request from Blackbaud's investor relations department.
All Blackbaud product names appearing herein are trademarks or registered trademarks of Blackbaud, Inc.
###