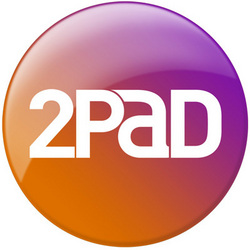 2pad is the precise tool needed to bring the privacy back to the internet.
Ranaana, Israel (PRWEB) December 14, 2007
2pad launches a new "private media sharing" concept to counter the trend of excessive public publishing. More and more people are starting to discover the danger of posting intimate photos or videos online. The launch of 2Pad comes as a reassurance to online communities everywhere and in support of The AD-councils' "Think before you post" campaign (http://tcs.cybertipline.com/), aimed to increase awareness of the dangers of posting online.
Most photo/video online sharing services (such as Facebook, MySpace, Flickr, YouTube...) are designed to encourage public access to the media published. With the internet reaching over 60% of households in North America alone, user freedom has been abused by encouraging people to share all their personal media online.
2pad launches its beta version to counter the trend of sharing media to random contacts online;, giving users complete control when sharing their digital photographs and videos. With the ability to decide which contact views which media, users don't need to think before they post anymore!
"We would like to see 2pad as the service to strengthen personal relationships instead of seeking new friends online," says Aaron Boublil, CEO of 2pad. "2pad is the precise tool needed to bring the privacy back to the internet."
In addition to being the first safe and private online media sharing service, 2pad is an easy-to-use service (adding media is as easy as emailing photos or videos to 2pad@2pad.com) and is created with an Ajax based web 2.0 user interface.
About 2pad
2pad (http://www.2pad.com) is an Israeli start-up established in 2006 by three entrepreneurs: Aaron Boublil, Ary Tebeka and Philippe Lumbroso. With their expertise of 25+ years, 2pad was created based on the conviction photo and video sharing on the Web should be easy and safe. If you would like to know more about 2pad or schedule an interview, please contact: Susi Doring at +972.54 206.2727 or email susi @ 2padteam.com.
###