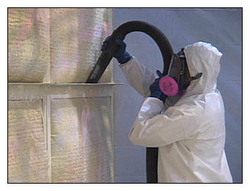 This training allows those products to be made, but by safer, better trained workers.
Novi, MI (PRWEB) December 17, 2007
Cancer risk, permanent eye damage, respiratory tract problems, serious skin rash - all documented risks to working with hexavalent chromium. Sounds like a futuristic research chemical that only those with a top-secret clearance would work around. But exposure risk is more prevalent than many would realize. An extremely hazardous compound means training is extremely important.
In its continuing goal of providing valuable workplace health and safety training, Mastery Technologies, Inc., announces the release of a new safety course, Hexavalent Chromium Employee Training. The interactive training - with video produced by ERI Safety Videos - is available on the Web, Intranet, or CD.
"Using our platform for providing the training, combined with ERI's expertise at creating not only OSHA-compliant, but powerful and motivational materials," said Kirk Berry, vice president of sales for Mastery Technologies, Inc., "is a winning combination."
Hexavalent Chromium Employee Training provides a detailed look into the hazards and the safe handling of hexavalent chromium for those working in general industry, shipyard operations, marine terminals, and the construction industry. For safety and training personnel looking for dynamic and OSHA compliant training, this course provides the answer. For businesses that want to reduce overall risk, having a better trained and aware work force reduces those business and personnel risks.
Thirty-four interactions actively involve the participant to learn about:

Characteristics and properties of hexavalent chromium
Effects of exposures
Engineering and work practice controls
Medical surveillance
Respiratory protection program
Protective clothing and equipment
Proper housekeeping
Responding to exposures
Lesson interactions provide the learner opportunities to apply what he or she has learned. The computer assesses the learner's level of understanding of all learning objectives. When the learner answers a question incorrectly the computer provides remedial instruction and reviews the material until the learner can answer correctly. All questions in this training are fully narrated. Narrations enhance comprehension and are welcome support for learners with reading skill deficits and when English is the learner's second language.
Mastery's exclusive Follow-up Review, standard in all Mastery Advantage courses, provides time-delayed reinforcement and review of the learner's newly acquired knowledge. The Follow-up Review enhances the transfer of newly acquired knowledge to the learner's long-term memory.
The Learner navigates through the course and its resources using the standard Mastery Control Bar. Training resources include a fully narrated glossary of terms. Each term is pronounced and its definition read aloud to the learner. A topical index provides a complete map to the training material. The learner can ask for all course information on any topic at any time during the lesson presentations. A complete transcript of all audio and video files is also provided with this course. Use the transcript file in conjunction with MODIFY to simplify customizations.
"There are many useful products that are produced using hexavalent chromium," said Danny Robinson, president of ERI Safety Videos, "This training allows those products to be made, but by safer, better trained workers."
About Mastery Technologies, Inc.:
Mastery Technologies, Inc., located in Detroit, Dallas, and Boston, has been a leader in workplace health and safety training technology since 1986. Mastery Technologies has partnered with leading video content providers to co-produce the largest interactive multimedia training library available today to the workplace health, safety, and environmental marketplace. Mastery Advantage™ products are sold by Mastery Technologies, its Licensed Content Partners, and The Mastery Group - comprised of independent licensed distributors with in-depth experience in workplace training and technology.
More on Hexavalent Chromium:
Chromium hexavalent (CrVI) compounds, often called hexavalent chromium, exist in several forms. Industrial uses of hexavalent chromium compounds include chromate pigments in dyes, paints, inks, and plastics; chromates added as anticorrosive agents to paints, primers, and other surface coatings; and chromic acid electroplated onto metal parts to provide a decorative or protective coating. Hexavalent chromium can also be formed when performing "hot work" such as welding on stainless steel or melting chromium metal. In these situations the chromium is not originally hexavalent, but the high temperatures involved in the process result in oxidation that converts the chromium to a hexavalent state.
Workers who breathe hexavalent chromium compounds at their jobs for many years may be at increased risk of developing lung cancer. Breathing high levels of hexavalent chromium can irritate or damage the nose, throat, and lungs. Irritation or damage to the eyes and skin can occur if hexavalent chromium contacts these organs in high concentrations or for a prolonged period of time. Workers in many different occupations are exposed to hexavalent chromium (Cr(VI)). Occupational exposures occur mainly among workers who handle pigments containing dry chromate, spray paints and coatings containing chromate, operate chrome plating baths, and weld or cut metals containing chromium, such as stainless steel.
Source: Occupational Safety & Health Administration
###