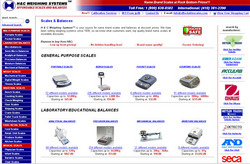 By adding Mettler Toledo to our laboratory lineup, we now have the most complete and technologically advanced lab balance line in the industry
Columbia, MD (PRWEB) December 14, 2007
From veterinary scales to food scales, H&C Weighing Systems has always carried a complete lineup of affordable scales and balances. Yet with new additions to their product line, the company has even more to offer customers. Mettler Toledo is the latest to join their selection of best brand name product categories in addition to a new jewelry scales suite, featuring high quality scales from prominent manufacturers.
"By adding Mettler Toledo to our laboratory lineup, we now have the most complete and technologically advanced lab balance line in the industry," says H&C Weighing Systems President Thomas A. Nolan.
H&C's product line of Mettler Toledo scales and balances includes micro, analytical, precision and moisture balances in addition to the new Mettler Toledo Xpress Scales. All deliver outstanding accuracy and are competitively priced to give customers extraordinary pricing when it comes to these ordinarily expensive scales.
Also new to the H&C collection are jewelry scales, available in a variety of makes from Acculab to Ohaus and more. Many of the jewelry scale models are compact, portable or handheld to make weighing easy and efficient. Additional features on a number of them include long operating life, minimal maintenance costs, unparalleled versatility and precise digital balance display.
Moreover, site visitors can gain a wealth of product knowledge by simply perusing the site for product descriptions. Visitors can easily find information on the counting scale, postage scale, shipping scale and other category types.
"Our site is information-rich and easy to navigate," explains Nolan. "Buyers can browse all the big brand name scale and balance manufacturers. Also, we offer the best pricing, excellent customer service, and we do not tack on extra handling charges on orders."
Site visitors can enjoy the convenience of instant shipping quotes through use of the shipping calculator, located alongside all product descriptions. A number of scales and balances also come with free shipping offers to lessen the cost of H&C's already affordable prices. Free shipping is currently available on all Mettler Toledo laboratory balances.
To learn more about H&C Weighing Systems or to explore their collection of best brand name product categories, visit AffordableScales.com.
About H&C Weighing Systems:
Since its founding in 1939, H&C Weighing Systems has been buyers' number one source for all the best brand name product categories in the scales and balances industry. With affordable pricing and availability in a number of notable brand names, such as Mettler Toledo, Ohaus, Detecto and more, H&C continues to give buyers solutions for all their scale needs. The company carries a comprehensive lineup of makes and models for all industries, including medical, industrial and retail scales.
###