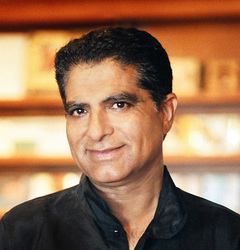 Seduction of Spirit helps individuals from all over the world tap into their own souls and discover higher states of consciousness, increased peace of mind and a deeper meaning in life
Austin, Texas (PRWEB) December 18, 2007
The Chopra Center for Wellbeing is coming to the beautiful city of Austin, with two signature programs, Seduction of Spirit and the Chopra Yoga Retreat, in the spring of 2008. Both programs will offer the city of forward-thinking Texans - as well as visitors to Austin - an opportunity to integrate well-being into their daily routine. Learn stress management and explore the timeless teachings of Ayurveda, yoga and meditation.
One of the Chopra Center's most popular programs for more than a decade, Seduction of Spirit is a six-day meditation retreat led by renowned mind-body physicians Deepak Chopra and David Simon, and the Chopra Center staff.
Seduction of Spirit is designed for those looking to manage stress, reduce anxiety, ease their emotional turbulence and take their well-being to a higher level. "Seduction of Spirit helps individuals from all over the world tap into their own souls and discover higher states of consciousness, increased peace of mind and a deeper meaning in life," said Chopra Center founder Dr. Deepak Chopra. "Those who join us this week will learn how to go beyond the conditioned limitations that have restricted their quest for fulfillment."
This coming March 31-April 5, attendees will learn the powerful teachings of meditation at the magnificent Horseshoe Bay Marriott Resort in Austin, Texas. Participants will receive instruction in the popular practice of Primordial Sound Meditation and the Seven Spiritual Laws of Yoga - and each day, delicious Ayurvedic vegetarian lunches will be served.
Nestled on the shores of Lake LBJ in the lush, rolling hills of Austin's most verdant expanse, Horseshoe Bay Marriott boasts a magnificent spa and meditation garden, peaceful waterways and a calming energy that pervades all aspects of the resort.
The Chopra Center is also presenting the Chopra Yoga Retreat this March 6-9 at the fabled Crossings Retreat Center. Drs. Chopra and Simon designed this yoga lifestyle retreat based on their best-selling book The Seven Spiritual Laws of Yoga, and it is taught by our top Chopra Center yoga instructors. Join us to start or enrich your practice of yoga and meditation, step away from the pressure of your daily schedule and take home new healing tools and techniques that will stay with you for the rest of your life.
Surrounded by more than 200 acres of nature preserve, the Crossings Retreat Center offers sweeping views of Austin's gorgeous hills, fresh lake breezes and soothing spas and saunas. "We've chosen this venue because its natural environment supports and nurtures the powerful experiences of deep meditation, yoga and healing," said Chopra Center co-founder and medical director Dr. Simon.
Dr. Deepak Chopra is chairman and co-founder of the Chopra Center for Wellbeing and a best-selling author who has written more than 50 books. He is acknowledged as one of the world's greatest leaders in the field of mind-body medicine. Through the Chopra Center, Dr. Chopra is revolutionizing common wisdom about the crucial connection between body, mind, spirit and healing. His mission of "bridging the technological miracles of the West with the wisdom of the East" remains his thrust as he and his colleagues conduct public seminars and workshops and provide training for health care professionals around the world.
Dr. David Simon is the CEO, medical director and co-founder of the Chopra Center for Wellbeing―as well as a board certified neurologist and a pioneer in the fusion of Western medicine and the healing arts of the East. Dr. Simon is the recipient of a National Institutes of Health grant to study mind-body approaches to health, and has created initiatives to bring holistic health-care programs to medical institutions, community health centers, and health resorts. In addition, he is a best-selling author whose recent books include The Ten Commitments: Translating Good Intentions into Good Choices and Vital Energy: The 7 Keys to Invigorate Body, Mind, and Soul. His latest book is Freedom from Addiction, co-authored with Deepak Chopra.
The Chopra Center for Wellbeing was opened by Deepak Chopra, M.D. and David Simon, M.D. in 1996. The philosophy of the Center is based upon the principles and practices of holistic and alternative medicine from around the world. The Center's goal is to provide guests with tools, techniques and routines to promote their own longevity and health, human potential and success, while increasing personal balance, happiness and fulfillment.
For more information. please call 888.736.6895 or visit http://chopra.com/seduction
###