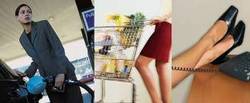 Membership registration is free, and it is required for members to earn Reward Points
Hudson, Ohio (PRWEB) December 14, 2007
Visitors to ActiveAmericans.com, the premier internet resource for Americans age 50 and above, will earn Reward Points toward free gasoline, groceries or shoes for a year during a promotion scheduled for December 15, 2007 through January 15, 2008.
"From day one, a primary objective of ActiveAmericans.com has been to give back to our members and visitors," said Scott Haycraft, founder and CEO. "We're committed to improving the lives of our members, and this promotion is another example of it. At ActiveAmericans.com we value wealth based on the many relationships we develop each day, not by transactions."
During the month-long promotion visitors who register and login at ActiveAmericans.com will earn Reward Points for all of their activities at the site. "Membership registration is free, and it is required for members to earn Reward Points," said Haycraft.
All activities completed while a visitor is logged in under their user name will earn points, including clicks on links, ads, articles and other features such as surveys, comments on stories and feedback about the site.
Although no purchase is required, registered members must accumulate a minimum of 25,000 Reward Points during the promotion period to qualify for the free gasoline, groceries or shoes for a year awards. The retail value of each of the awards is $1200.
ActiveAmericans.com is the premier online resource for Americans age 50 and above, featuring unbiased information about issues such as lifestyles, finances, health care, recreation, legal issues, life stages and family relations. Visit the site at http://www.ActiveAmericans.com.
# # #