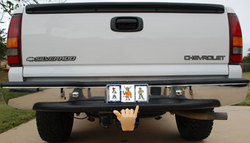 Standard hitch covers can't compare to Hitch Hands
Mansfield, TX (PRWEB) December 18, 2007
Getting 'hitched' gets a whole new meaning with the edgy new truck accessory Hitch Hands. Shaped like a human hand, Hitch Hands are decorative hitch covers that plug easily into any standard 2" receiver. They can be posed in an endless variety of positions to communicate a variety of visual messages, from Hook 'em Horns to a carefully positioned single finger.
"Hitch Hands are the best way I know to deliver a message by hand," jokes Texas entrepreneur Jay Van Zandt. "They're a one-of-a-kind truck accessory that an owner can use to dress up a 'naked' receiver when it's not in use." Van Zandt is the visionary president of Mr. Van's LLC, a company dedicated to the development and marketing of leading edge products and innovative merchandise including Hitch Hands.
Since its debut last month, the novelty hitch cover has helped truck owners safely send outrageous 'hand signals' to other drivers on the road without ever letting go of the steering wheel.
Handy Success
Sales have been brisk since Hitch Hands was first launched in December of 2007. "What on Earth" catalog took immediate notice of this unique product and placed Hitch Hands into their Christmas 2007 catalog. Van Zandt says the success came as no surprise. "Standard hitch covers can't compare to Hitch Hands," he says with pride. "We give drivers a whole new way to flip the bird when they're on the road."
Hitch Hands is the latest entry in a robust automotive aftermarket. Repairs account for a large segment of the $267.6 billion aftermarket industry (Source: Automotive Aftermarket Industry Association). It is customization however ... with gadgets and gear ... that excites consumers. "The 'Me Generation' that cut its teeth on fast food and 'have it your way' wants to put a personal stamp on their cars and trucks," observes Van Zandt. "They're spending more time behind the wheel and want to enjoy their vehicle inside and out."
So do their children and their grandchildren. According to results from the most recent U.S. Census, an American's daily commute last about 24.3 minutes in 2003. But the study reports an increase in 'extreme commutes of more than 50%.
Van Zandt reports that buyers call Hitch Hands "fun and functional" and notes that, "Everyone wants to 'pimp' their ride these days." He is referring to the explosion of reality TV shows including Overhaulin' and Pimp My Ride, that have changed the way many people view their vehicles. "The mode of transportation we choose says something about us," observes Van Zandt. "Hitch Hands add to the conversation."
To help vehicle owners go one step beyond in customizing their trucks and other family vehicles, the product website (http://www.hitchhands.com) offers Hitch Hands decals as well as locking hitch pins. "We're a one-stop shopping destination for people looking to join the Hitch Hands Nation," says Van Zandt.
"We're small in numbers now, but we're growing ... five fingers at a time."
The MSRP for Hitch Hands is $39.95. For additional details, to place an order, or to learn about distributorship opportunities, please visit http://www.hitchands.com or contact Jay Van Zandt at info@hitchands.com
About Hitch Hands
Hitch Hands is a novelty trailer hitch accessory. It is the flagship product of Mr. Van's LLC, a family owned and operated company in Mansfield, Texas. Mr. Van's develops and markets innovative products, including Hitch Hands-themed stickers and locking hitch pins to make installation easy. Mr. Van's LLC is also a proud member of SEMA. Hitch Hands are available for sale on the Internet and a few major catalogs. Additional catalogs and brick-and-mortar retailers are actively sought. For addition information, please visit http://www.hitchands.com or contact Jay Van Zandt at jay@hitchands.com
Contact:
Jay Van Zandt
Hitch Hands
http://www.hitchhands.com
jay@hitchhands.com
817-483-7293
###