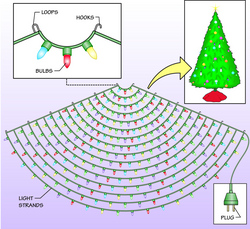 Pittsburgh, PA (PRWEB) December 17, 2007
InventHelp®, America's leading inventor service company, announces that one of its clients, an inventor from Gilbert, Ariz., has designed a net of Christmas tree lights that can be draped over the tree. This invention is patented.
The "Illuminet Christmas Tree Lights" could enable a user to light a tree in a quick and easy manner. The invention could illuminate a tree evenly, which would remove the need to reposition lights. The net design could save time, effort and frustration of stringing lights. Additionally, the net design could resist tangling, which is common with stringing lights.
The Illuminet Christmas Tree Lights consists of a triangular net that would be wrapped around the Christmas tree. The netting would be comprised of numerous lights and wires. The lights could be produced in one or more colors, and may blink or burn steadily. To install, a user arranges the set over the tree and secures a hook-and-loop-style fastener at the top. A standard electrical cord with a plug would extend from the base of the light set. The invention could be producible in several sizes to accommodate trees of varying widths and heights.
InventHelp® is attempting to submit the invention to companies for review. If substantial interest is expressed, the company will attempt to negotiate for a sale or royalties for the inventor. For more information, telephone Dept. 04-LIN-1264 at (800) 851-6030. Learn more about InventHelp® and their Invention Submission services at http://www.inventhelp.com.
# # #