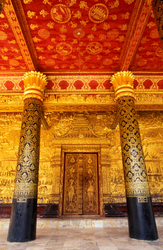 Kipling & Clark features two high-end luxury properties in Luang Prabang: the Résidence Phou Vao and the French colonial boutique property Maison Souvannaphoum, both are stunningly beautiful, charming and luxurious, truly world-class
Chicago, IL (PRWEB) December 17, 2007
Kipling & Clark, the expert in private, personalized luxury travel to Greater China, Japan and all of Southeast Asia, has chosen Luang Prabang as its featured destination for January 2008. The New York Times recently named Laos as its number one place to visit in 2008.
"Kipling & Clark features two high-end luxury properties in Luang Prabang: the Résidence Phou Vao and the French colonial boutique property Maison Souvannaphoum, both are stunningly beautiful, charming and luxurious, truly world-class," said Randy Lynch, founder and president of Kipling & Clark. "The ancient royal city of Luang Prabang is a hidden treasure in Southeast Asia. It's a slow, sleepy town, nestled on the Mekong River and rich in Buddhist culture, traditional Laotian dwellings and French colonial architecture -- it's a place where time seems to stand still."
Randy Lynch will be chronicling his family's holiday expedition to Laos and Thailand on the Kipling & Clark Blog, http://www.KiplingandClark.Blogspot.com beginning December 25th.
"I will be highlighting and sharing all the amazing wonders of Laos and Thailand: we'll cruise down the Mekong River from Chiang Rai to Luang Prabang, visit Tam Ting 'Cave of a Thousand Buddha's', participate in a traditional Baci ceremony, visit ancient temples, monasteries and ethnic markets, and enjoy the finest luxury accommodations. Our daughter, Zennia, will also make return visits to several local schools and orphanages," said Mr. Lynch. "At Kipling & Clark, we are able to create once-in-a-lifetime custom journeys to Southeast Asia, Greater China, Japan and India-Bhutan because we personally experience all the places we recommend. Our high-touch service and impeccable destination planning comes from our own first-hand experiences, enabling us to deliver unique luxury travel experiences for discerning travelers."
View Kipling & Clark's Family Luxury Expedition sample itinerary to Laos, Thailand and Cambodia: http://kiplingandclark.com/pagesNew/KC_Thai_Cambodia_Fam_Itin.pdf
About Kipling & Clark & TravNET
Kipling & Clark (http://www.KiplingandClark.com) is the market leader in providing high-touch, private, luxury travel arrangements to greater China, Japan and Southeast Asia. Longstanding, intimate relationships and extensive experience with the finest hotels, resorts, restaurants and guides enables Kipling & Clark to create custom, unique journeys for discriminating travelers and families who want to be immersed in the culture, food, art and architecture of the beautiful and exotic Pacific Rim. Kipling & Clark's sister company, travNET (http://www.travNET.net), provides competitive business and first class airfares to Asia and the South Pacific for executive and high-end leisure travelers. A longstanding preferred-partner relationship with United Airlines and trusted partnerships with other major transpacific air carriers enables travNET to deliver exceptional airfare upgrades and routing combinations, making travel to destinations in the Pacific Rim effortless, seamless and thoroughly enjoyable.
###