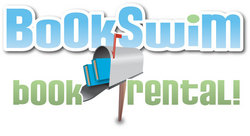 a great way for subscribers to limit their carbon footprint
Monroe, NJ (PRWEB) December 18, 2007
BookSwim.com, America's only hardcover & paperback online book rental service, has introduced e-gift cards to relieve holiday stress.
With Christmas banging on our door like an angry downstairs neighbor, we're all feeling the pressure to get to the store, fight the crowds (metaphorically, we hope), and find gifts that show we care. After waiting on just one line at the local bookstore (and feeling the pain of the sub-total), shoppers are wishing there was a better way. Luckily, BookSwim has the holiday blues in its crosshairs.
BookSwim.com's book rental service holiday gift cards provides gift-givers with the comfort of shopping from home, while ensuring that the subscription they give will never be re-gifted and certainly won't become moot by December 26th.
An unlimited monthly plan is cheaper than purchasing a single new hardcover and subscribers manage their own online rental pool, so they'll always get books they want, shipped free both ways. Like Netflix, when subscribers finish a batch of books, they simply drop them in the mail the next books from their rental pool get shipped. BookSwim offers nearly 200,000 titles, unlimited books per month, no due dates and no late fees, ever.
BookSwim.com even plants evergreens for every gift card sold this holiday season, through a partnership with EcoLibris.net, so it really is the gift that keeps on giving when dreaming of a "Green Christmas". Contributing to reforestation efforts throughout Central America and Africa, Eco-Libris aims to balance out virgin paper used in book printing production. Encouraging renting rather than buying, BookSwim co-founder, Shamoon Siddiqui, touts the book service as "a great way for subscribers to limit their carbon footprint", while co-founder, George Burke, adds, "It's both good conscience and good business to take care of the earth."
About BookSwim Corporation
BookSwim http://www.bookswim.com, launched in May, 2007, is the first and only online paperback and hardcover book rental library club allowing subscribers to rent books, with free home shipping, both ways, no due dates or late fees. BookSwim provides book rental service nationwide, from new releases, to classics, bestsellers and children's books. Founded by college friends, Shamoon Siddiqui and George Burke, BookSwim subscription plans start at under $15 per month and allow as many as 11 books borrowed at a time. Members can even buy books they fall in love with.
###