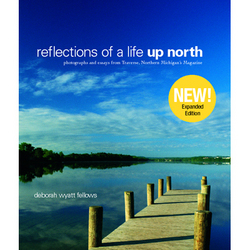 Our childhood pleasures try to dictate our lives and sometimes succeed. You are taken fishing at age 5, and 60 years later you are still avidly trout fishing
Traverse City, MI (PRWEB) December 17, 2007
Reflections of a Life Up North is the Perfect Holiday Gift for Those Who Live Up North, Vacation Up North or Just Dream About It
Those who love Northern Michigan, cottages or just getting away will fall for the second edition of Reflections of a Life Up North,, a collection of photographs and memorable essays recently released by Traverse, Northern Michigan's Magazine founder and editor in chief Deborah Wyatt Fellows. It is a great last minute gift idea. The book features stunning photographs paired with Fellows's writings; this expanded edition includes new stories and pictures. It is a book about a spectacular part of the world and the stirring experiences shared there. For the holiday season, it's a gift that reminds readers about their own connections to the places of the heart. The book is available at TraverseMagazine.com and many fine bookstores, or by calling the Traverse offices at (231) 941-8174. (Which makes it easy for those last minute shoppers to get a meaningful gift.)
"Our childhood pleasures try to dictate our lives and sometimes succeed. You are taken fishing at age 5, and 60 years later you are still avidly trout fishing," says celebrated Michigan writer Jim Harrison. "Deb Fellows came north early in life and emotionally never left. In Reflections of a Life Up North, she pleasantly and skillfully reminds us of what a grand place this is."
For more than 25 years, Fellows and the publication she founded, Traverse, Northern Michigan's Magazine, has portrayed in words and pictures the area Michigan calls Up North. Reflections of a Life Up North pairs Traverse's most beautiful photographs and Fellows's monthly columns about the joys of all the seasons and their weathers, of marriage and children, small towns and big lakes, islands and ski trails, rites of passage, stolen moments, and the need to be outdoors. And, of course, about the remembrance of summers Up North, at a cottage on the lake.
Within the book's pages, readers will find stories about hunting morels near Boyne City, skiing the snowy trails of Sleeping Bear National Park, camping on the Manitou islands, shooting the tube of the Crystal River in a canoe and surviving what could have been treacherous fog around Drummond Island. All the secrets of summers past and all the dreams of seasons to come are waiting for readers in Fellows's heartwarming and dramatic tales of life in Northern Michigan. Traverse City, the Porcupine Mountains, Pyramid Point and the Platte River. Halloween in a village. Christmas in the woods. Swimming rafts and berry-stained faces. First house, first child and the first taste of freedom, alone on the lake in a borrowed boat.
Kurt Luedtke, Oscar-winning screen writer, former editor of the Detroit Free Press and long-time friend of Fellows, explains the nature of the book in his foreword, saying, "The summers of a childhood can make memories so suffused with light, so saturated by color, that the yearnings they foster reach into a life, get hold of it, give it shape the way a mold forms liquid metal."
Reflections of a Life Up North is available online at traversemagazine.com, by phone at (231) 941-8174, and at fine bookstores throughout Michigan.
About Prism Publications, Inc.
Prism Publications, Inc., founded in 1981 by Deborah Wyatt Fellows, publishes Traverse, Northern Michigan's Magazine, Northern Home & Cottage and Destination Northern Michigan, a Northern Michigan travel guide, in addition to several other print and online publications. Traverse and its staff have won more than a dozen national and international awards for excellence, including most recently "Magazine of the Year" from the International Regional Magazine Association and a 2007 silver award for general excellence from the City and Regional Magazine Association. Prism has also published Reflections of a Life Up North, a coffee-table book of stunning photography from Traverse paired with a collection of Fellows's columns, which has been reprinted in an expanded edition. Prism Publications is also a proud sponsor of many events including the Cottage & Lakefront Living Show, the Michigan Log & Timber Expo, The Epicurean Classic and the National Cherry Festival's Cherries D'Vine event. The privately held company is headquartered in Traverse City, Mich. For more information, visit traversemagazine.com or call (231) 941-8174.