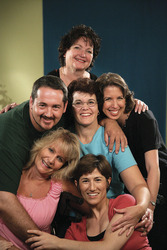 It may impact MS and other inflammatory disorders by helping create a state of improved balance in the autonomic nervous system,
Sedona, AZ (PRWEB) December 16, 2007
Multiple sclerosis is a disease that may be as hard on the emotions as it is on the body. Not only must its victims confront the fear and depression that accompany any degenerative disease, but the emotional fluctuations caused by MS brain lesions are part of the everyday struggle for many with the disease. For that reason, finding a community of support may be as important to the management of the disease as any other form of treatment. A group of MS patients in Arizona has discovered that a this sort of community, as well as physical relief, can come through a gentle, healing practice called Dahn Yoga.
When Cathy Downie discovered Dahn Yoga at a Phoenix-area Dahn Center, she found something that finally worked for her after a long, 13-year struggle with the disease. Dahn Yoga offered exercises that were gentle enough for her current physical condition, yet at the same time provided challenges for her body and peace for her mind. She found that her condition improved dramatically after only a few months of training. She says, "With Dahn Yoga, I recaptured things I thought I could no longer do."
Cathy's results were so profound that she ultimately decided she could not keep her success all to herself. After gaining training to become an instructor, she eventually began a special section of what she calls "gentle yoga" at a local community college. One of her students, Sharon Everett, says, "Dahn Yoga has given me my life back. I'm happy. I'm healthy. I want to share this with the world."
The class soon attracted dozens of MS sufferers, as well as people struggling with other types of debilitating disease, including lupus, cerebral palsy, and fibromyalgia. Her students experienced amazing results, and a few went on to create their own Dahn Yoga classes.
Dahn Yoga may work especially well for MS due to its stress-relieving, energy-building workout. Part of Ilchi Lee's Brain Education System Training (BEST), a brain-based approach to mind-body fitness, Dahn Yoga helps practitioners release stress while also improving energy flow in the body through light stretching, energy-building postures, meditation and breathing techniques.
Many of MS's common symptoms, including muscle stiffness, emotional fluctuation, and fatigue are often relieved through its methods. Dr. Sung Lee, a physician located in Sedona, AZ, says, "It may impact MS and other inflammatory disorders by helping create a state of improved balance in the autonomic nervous system, "by generating more 'rest and digest' and less 'fight or flight.'"
The Dahn Foundation, a non-profit entity that focuses on providing low-cost Dahn Yoga training to the public, has now teamed up with Cathy and others like her to create Dahn for MS. Together they have worked to provide information about the use of the techniques for MS to the general public.
Recent efforts include a DVD project that provides an easy-to-follow Dahn Yoga workout. The DVD, entitled Dahn Yoga for MS and Similar Conditions, features all the elements of Dahn Yoga in a form appropriate to people with physical limitations. It is available for purchase at Amazon.com.
For more information about the DVD, visit http://www.bestlifemedia.com.
# # #