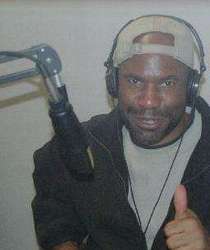 Jazz, Joy and Roy is a six hour radio show!
Richmond, VA (PRWEB) December 17, 2007
Men are banned. They cannot listen. Strong demands from an international radio disc jockey and reporter..
"Look. It's simple. When the clock strikes 6 a.m. on the West Coast, prospective male voice-over clients need to go do something else until 8 a.m.," insists Roy Gray, who is no stranger to broadcasting controversy.
People who catch men listening to the quirky announcer's demos during the prohibited hour are asked to call area code 949/677-8599.
"It's important that prospective female voice-over clients understand that these 2 hours belong to them alone, no exceptions," Gray demands.
The news release formally announcing Gray's return to the live mic after the latest firing, as well as, the name of the great radio station that airs "Jazz, Joy and Roy" is scheduled for the moment Charity Music Inc.'s CharityMusic.Org website boasts its 10,000th Myspace Friend.
Gray adds, "Jazz, Joy and Roy is a six hour radio show!"
Men are invited to enjoy the other five hours.
"This man ban has nothing to do with the great WSEL-96.7 FM in Tupelo, MS and my legendary colleague Ollie Collins JR, or the other fine radio stations airing 'Roy's Koncert Konnection' in 2008," Gray points out.
Important Note: The music bed that's rockin' Mississippi and the world on Roy's Koncert Konnection is performed by the man Roy calls "The Greene Genius," Rodney Greene. Be sure to click on this link to purchase Greene's debut jazz album: http://cdbaby.com/cd/rodneygreene
###