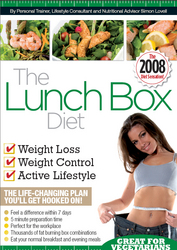 At the end of the four weeks, the diet has become a way of life and I've lost 12lb
Exeter, UK (PRWEB) December 17, 2007
The Lunch Box Diet eating plan is designed to help the nation follow a healthy regime that maximises their energy levels and shifts fat for the long term. It offers an alternative to destructive dieting regimes based on a commonsense approach, an understanding of healthy eating and readily available, nutritional foods. Via direct contact with his personal training clients, Simon has learned that the diet is sustainable, enjoyable and fits in with family life and has designed it so that there are no silly meals to prepare.
The no-nonsense diet allows people to eat their normal nourishing breakfast and dinner, while still shedding weight safely, and the eating plan is also a great maintenance regime for those who want to ensure their diet is energy fuelled, healthy and has lots of variety.
The Lunch Box Diet encourages grazing throughout the day to combat hunger pangs and uses super foods to provide the anti-oxidants necessary to prevent free radical damage, which combats premature aging of the skin, fights disease and maintains a healthy lifestyle. The diet is also designed so that carbs are added according to how active you are, so is perfect for those looking to sign up to gyms in the new year.
Elle Magazine's UK reviewer said: "At the end of the four weeks, the diet has become a way of life and I've lost 12lb". Where most diet plans can shift the pounds, the most important factor when dieting is sustainability and once normal eating plans are resumed, fat piles back on. With the Lunch Box Diet plan it's about slowly re-educating your body to eat small regular meals, speeding up user's metabolism and boosting their energy, among lots of other benefits. It's no surprise that the feedback to Simon is that people continue to use the diet all year around.
Renowned personal fitness trainer Simon Lovell (UK Fitness expert to 'Sport' Magazine http://www.myfreesport.co.uk), the mastermind behind the Lunch Box Diet, has used his expertise to create an intelligently balanced plan. He explained: "The diet has snowballed from healthy eating plans I gave to my clients to supplement their fitness programmes. They worked so well that clients were passing them on to their friends and colleagues. I decided I had produced something special, quick to implement and, most importantly, doable.
"People can drop down to their ideal weight without compromising their health - it just takes a bit of direction and professional advice. There are definitely negative repercussions when using certain diets, which can have long-term effects on your health. I want to show people they can lose weight and actually improve their health as part of a whole lifestyle change."
Sarah Panter, a Devon and Cornwall NHS worker, said: "The diet is so simple, tasty and great for me in the office. I lead a busy life and found I'd often be reaching for the crisps or chocolate bars. Now I've replaced those choices with a diet that ensures healthy alternatives are always on hand for when I get hunger pangs. It's even helped with my Eczema"
Those wishing to buy the diet can do so at http://www.thelunchboxdiet.com for $19.95/£9.95
For more information, interviews and copies of the diet for review please contact Simon Lovell on 07786 175118 or by email.
Simon's Personal Training web site can be found at http://www.theheatfitness.co.uk. Simon is also UK Fitness expert to 'Sport' Magazine http://www.myfreesport.co.uk
# # #