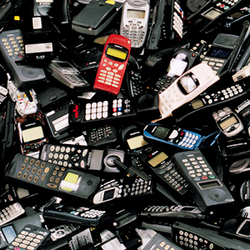 December is consistently the highest-performing month for new device purchases, and the operators have responded by embellishing their handset portfolios in time for the holidays
Ocala, FL (PRWEB) December 18, 2007
For years December has traditionally been the most active month for new cell phone purchases and subsequently cell phone retirement. It's also the time when consumers can use some extra spending money. RMS Communications Group, Inc. helps cell phone users address both issues by paying cash to people who sell their retired cell phones using their website; http://www.CellForCash.com.
According to a recent report from M:Metrics, 12 percent of U.S. mobile users who bought a new phone last year did so in December, which marks a 40 percent increase in device sales during that month. "December is consistently the highest-performing month for new device purchases, and the operators have responded by embellishing their handset portfolios in time for the holidays," Paul Goode, senior analyst, M:Metrics said in a statement.
Surveys suggest that less than 10% of U.S. consumers dispose of their old cell phones either by selling them or through other recycling methods. This leaves more than 11 million cell phones to pile up every month in the homes of America.
James Mosieur, CEO of RMS, says the stockpile of cell phones continues to rise regardless of recycling alternatives. "Most people don't realize their old cell phone may be worth something. Of those who do, the vast majority have no clue how much it's worth let alone how to sell it."
This is where CellForCash.com comes in. The website lists the value of over 600 different models of cell phones. Prices range from $5 to well over $200.00. If your cell phone does not qualify for payment the company will recycle it for free. Users simply find their cell phone, submit their information and CellForCash.com will send a return box with a pre-paid label affixed. Payment will be sent 30 days after receiving your cell phone.
"For almost every new cell phone purchased, one is retired" said Mosieur. "We estimate that nearly $500 million worth of cell phones are collecting dust when they should be collecting interest."
Getting cash back isn't the only pay off, there an environmental benefit as well. In the last 12 months the CellForCash.com website has helped RMS divert almost 200 tons of electronic material from the waste stream.
About CellForCash.com
CellForCash.com pays cash for used cell phones and makes the process simple by displaying the phones it will buy and the prices it will pay for them right on the web site. It also provides sellers with pre-addressed, postage-paid mailing boxes. The site lists over 600 models from 21 manufacturers including Apple, Motorola, Nokia, LG, Rim and Samsung. For more information visit the web site at http://www.CellForCash.com.
# # #