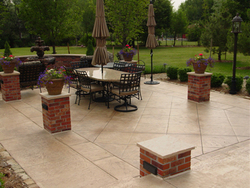 Decorative concrete is one of the hottest building trends today
Yucaipa, CA (PRWEB) December 19, 2007
Today's options in concrete offer limitless possibilities for creating concrete surfaces that include custom colors, unique textures, and exquisite patterns. These decorative options have altered society's perceptions of concrete, from plain, gray surfaces to one-of-a-kind masterpieces. With over ten million visitors per year researching these applications, it's no wonder that decorative concrete is popping up in homes, restaurants, hotels, casinos, theme parks, and more around the world.
The Concrete Network, the largest and most comprehensive source for concrete information anywhere in the world revealed the top five researched decorative concrete services for 2007. The data, illustrating the hottest trends among homeowners, designers and builders, is derived from Website statistics collected by The Concrete Network, which generates hundreds of thousands of visitors per month, much more than any other site in the field.
These statistics are valuable to homeowners and builders who are looking for alternative building and remodeling options that produce quality results and are practical for everyday use. The five most requested decorative concrete service categories are:
1. Concrete Patios
2. Stained Concrete
3. Stamped Concrete
4. Interior Concrete Floors
5. Concrete Resurfacing
"Decorative concrete is one of the hottest building trends today," said Jim Peterson, CEO of The Concrete Network. "Homeowners from around the country are embracing concrete, and incorporating these applications into all aspects of their lives, from floor applications, to concrete countertops, to decorative wall treatments."
Established in 1999, The Concrete Network's purpose is to educate consumers, builders, and contractors on popular decorative techniques and applications. These include stamped concrete, stained concrete floors, concrete countertops, polished concrete, and much more. In July 2007 The Concrete Network Website had over 1.3 million visitors researching decorative concrete.
The site excels at connecting buyers with local contractors in their area through its Find-A-Contractor service. The service provides visitors with a list of decorative concrete contractors throughout the U.S. and Canada, and is fully searchable by 23 types of decorative concrete work and 202 regional areas throughout North America.
News image courtesy of QC Construction Products. Attached photo courtesy of Diamond D Company.
###