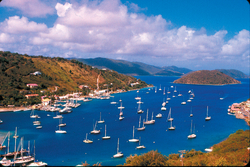 Tortola, British Virgin Islands (PRWEB) December 19, 2007
From frolicking the white sandy beaches in teeny-weenie bikinis, holding umbrella drinks to sailing the technical tides of the Sir Francis Drake Channel, there is no better place to celebrate the New Year than the British Virgin Islands. With rows, rows, rows of boats gently lining the shore, adventure-seekers experience tailgating at its finest by "boat hopping" - mixing and mingling with visitors and locals during this merry party tradition, where life is truly but a dream. Fun-filled days of sunbathing, snorkeling, swimming and sailing provide a relaxing escape from a frosty winter wonderland and allow visitors to approach the upcoming year refreshed, rejuvenated and with a sun-kissed glow.
Hot Spots
Reflect on the year's best moments and look to the future with luxurious flare during an Old Year's celebration at the hottest island spots in the British Virgin Islands. The biggest and best parties in the Caribbean start Dec. 30 and continue long after the ball drops.
Foxy's Tamarind Bar & Grille - Jost Van Dyke
The most renowned Old Year's Celebration and birthplace of New Year's events in the BVI is annually held at Foxy's Tamarind Bar and Grille, an island favorite for years. Foxy's hosts 48 hours of continuous entertainment with live music, dancing and delicious dining. BVIslanders and world travelers flock to the unique beach bar for nights filled with specialized succulent cuisine and cocktails including Foxy's own micro-brewed beers, all accompanied by a collection of calypso bands to bring signature Caribbean grooves to the dance moves of each partygoer.
Trellis Bay - Tortola
Experience the regional culture of the islands at the Trellis Bay New Year's Eve Festival lasting from noon until after midnight on December 31. From reggae music and traditional island dancers to a festive fireworks extravaganza and areas perfect for boat hopping, residents and visitors alike enjoy the lively, family-oriented atmosphere at Trellis Bay.
Bitter End Yacht Club
Celebrate the New Year at Bitter End Yacht Club, the Caribbean's premier luxury water sports resort. The Bitter End Yacht Club entertains guests at Almond Walk with live reggae music and an original New Year's menu including a midnight champagne toast. Whether seeking adventure through windsurfing and scuba diving or hoping to relax with full service spa treatments and boat excursions, the eclectic activities in the British Virgin Islands undoubtedly offer something for everyone.
The British Virgin Islands remains an undeveloped haven for natural treasures. The BVI boasts no high-rise hotels, no casinos and no traffic, rather, the purity of the land -- from pristine beaches with powdery sand and crystal clear waters home to an aquarium of the world's most diverse sea life, to extensive coral reefs responsible for claiming renowned wrecks and vast Outbacks sheltering endangered species. The BVI is rich with the storied islands of Norman, Deadman's Chest and Anegada, while the islands of Peter, Necker, and Guana anchor luxury resorts and sun worshippers find a haven on Jost Van Dyke, Cooper Island and Virgin Gorda. Whether it is discovering the natural phenomena of The Baths or diving the Indians, Sandy Spit or fabled Wreck of the Rhone, the BVI is bountiful with Nature's Little Secrets.
For more information on New Year's Eve activities, please visit http://www.bvitourism.com or call the British Virgin Islands Tourist Board toll free 800-835-8530.
###