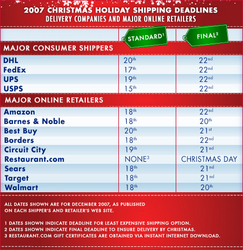 National Freedom From Shipping Week
Arlington Heights, IL (PRWEB) December 18, 2007
The first annual "National Freedom From Shipping Week" takes place from Wednesday Dec. 19 through Christmas Day, according to the online retailer who cooked up the idea.
"Year after year we hear stories about online gift purchases that don't arrive on time as they were purchased too close to the holiday," says Cary Chessick, president and CEO of Restaurant.com. "But, Procrastinators rejoice! Buying a gift online after Dec. 19--when most online retailers stop promising on-time delivery--doesn't have to be a recipe for disappointment."
With more people spending more money online than ever before, the pressure on delivery companies is intense. This pushes some gift-givers to look for no-shipping alternatives, and in that sense, consumers gain "freedom" from shipping.
"During 'National Freedom From Shipping Week,' as on-time shipping options dry up, and the inventory of gifts in local stores becomes depleted, consumers will go online to look for no-shipping gift options like Restaurant.com," says Chessick.
Restaurant.com is one of only a handful of online gift options that don't require shipping or mailing. Consumers visit Restaurant.com to buy gift certificates valid at more than 8,500 restaurants nationwide. Gift certificates can be printed at home instantly or accessed immediately via email by the recipient. Gift buyers also have the option to print and customize the gift certificates and give them to the recipient in person.
During "National Freedom From Shipping Week," you won't need to decide between sending Uncle Harry barbecue tools or a cookbook; neither one will get to his house before Christmas. Instead, you can buy Uncle Harry a gift from Restaurant.com and email it or give it in person that same day. He can open the gift, print it at home and use it at his restaurant of choice within minutes.
To celebrate "National Freedom From Shipping Week," Chessick is re-launching the Restaurant.com Gift Center, which includes a new "Dinner of the Month Club" gift option that continues to give even after initial purchases are made. Subscriptions to the club will deliver gift certificates that offer "supper and savings" to recipients over the course of three, six and 12 months.
Applying names to particular days of the holiday shopping season has become standard practice in the media recently. "National Freedom From Shipping Week" joins a roster of specially named occasions that includes Black Friday and Cyber Monday.
About Restaurant.com
Restaurant.com connects restaurant seekers and food lovers to savings at more than 8,500 restaurants nationwide and to various online retailers. As the nation's leading online directory of restaurants and restaurant gift certificate provider, the company brings people together to relax, converse and enjoy well-prepared and -served meals at affordable prices. To date, Restaurant.com customers have saved more than $50 million through the gift certificate program.Restaurant.com has operated continuously since 1999 and is based in Arlington Heights, Ill.
Editor's NOTE: Cary Chessick is available for media interviews, taped or live, on such topics as consumer tips, online retailing, gift-giving and the restaurant business.
###