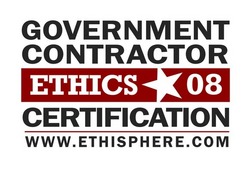 With continued controversy of government contractors, this ranking will bring positive influence in recognizing and promoting best practices in federal contractor ethics and compliance programs
New York (PRWEB) December 18, 2007 - The Ethisphere Institute, a think-
tank dedicated to the research and promotion of best practices in business ethics and compliance, announced today that it will be publishing its first annual Government Contractor Ethics Program Rankings in the Q1 2008 issue of Ethisphere Magazine. The ranking will take into account new Federal Acquisition Regulation (FAR) rules regarding U.S. government contractors' ethics programs, key FSG "hallmarks" for effective compliance programs and industry best practices.
"With continued controversy of government contractors, this ranking will bring positive influence in recognizing and promoting best practices in federal contractor ethics and compliance programs," said Greg Esposito, director of government contractor ethics research for Ethisphere Institute.
As Senator Tom Carper (D-Delaware) noted, efforts to have contractors voluntarily disclose ethical concerns just "makes sense." He added that, "Such voluntary disclosure of internal ethics procedures will give us better means to do business with the best contractors out there."
The information about government contractors ethics programs will be collected through an online questionnaire and supplementary information provided by participating companies. All information and materials will be carefully evaluated by Ethisphere analysts.
The methodology for the initiative has been reviewed by the Government Contracting Ethics and Compliance Methodology Committee. This committee is comprised of leading experts from the legal profession, government procurement, and corporate and academic institutions including:

George W. Ash, Partner, Foley & Lardner LLP
Steven G. Churchwell, Government Affairs practice group Partner, DLA Piper LLP
Jeffery D. Clark, Partner, Willkie Farr & Gallagher LLP
Ronald Clark, Partner, Arent Fox LLP
Lisa A. Estrada, Partner Government Contractor Services and Government Enforcement, Arent Fox LLP
Kathleen M. Hamann, Vice-Chair, Anti-Corruption Initiatives & Compliance Issues Committee, American Bar Association
Jenny Kim, Senior Associate, Miller & Chevalier Chartered
David Laufman, Partner, Kelley Drye Collier Shannon LLP
Timothy Lupfer, Director, Human Capital Organization and Change, Deloitte Consulting LLP
Deneen J. Melander, Partner, Fried Frank
Traci Melvin, Deputy Director, NIH Ethics Office
Kevin Mullen, Partner Government Contracts Practice, Cooley Godward Kronish LLP
"This is an important effort by the Ethisphere Institute in recognizing the significant achievements and commitment made by government contractors in instituting ethics and compliance programs. Most government contractors truly want to act ethically and obey the law," said George W. Ash Partner at Foley & Lardner LLP and Government Contracting Ethics and Compliance Methodology Committee member. "Ethisphere rankings will identify the contractors that have demonstrated their ethical commitment to their stakeholders and the public, and serve as a guidepost for other contractors to follow."
All information will remain confidential and the specifics about companies' ethics programs will not be released to the public or shared with the methodology Committee; only an aggregate score will be published. More information about the methodology can be found at http://www.ethisphere.com/.
About The Ethisphere Institute
The Ethisphere Institute, with the support of its keystone partners LexisNexis, the Practising Law Institute, Red Flag Group, the National Association of Corporate Directors, Trace International, the Global Reporting Initiative, Corpedia, and associated membership group, the Ethisphere Council, was founded in 2006. Dedicated to the research, creation, and sharing of best practices in business ethics, compliance, sustainability, and corporate governance and citizenship, the Council is comprised of over 200 institutions and corporations, including Deutsche Telekom, Time Warner, Avaya and Kraft. Ethisphere Magazine is the quarterly publication of the Institute, created to illuminate the important correlation between ethics and profits. The motto of the Institute is "Good. Smart. Business. Profit." and more information on membership can be found at http://www.ethisphere.com.
# # #