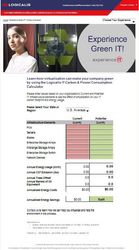 Logicalis was also able to demonstrate the potential hard dollar savings that organizations might realize through these efforts
Bloomfield Hills, MI (PRWEB) December 18, 2007
Green IT is a hot topic among CIOs and IT managers, but assessing the amount of power consumption in the data center and the potential impact of consolidation and virtualization technologies has been a challenge. To help IT managers better understand how they can reduce their organization's impact on the environment, Logicalis, a global provider of high-performance technology, has developed the Logicalis IT Carbon and Power Consumption Calculator. The free tool is available at http://www.us.logicalis.com/green .
A recognized leader in consolidation and virtualization technology, Logicalis developed the easy-to-use online tool to enable IT managers to quickly determine the current amount of energy consumed by their data centers and the potential savings they may achieve through server and storage virtualization and consolidation.
The on-line tool helps IT departments assess their power consumption and related carbon (CO2) emissions and demonstrates that significant carbon footprint and energy cost savings can often be achieved through virtualization.
"Using the Logicalis IT Carbon and Power Consumption Calculator, IT managers can better visualize the potential impact of reducing their current IT infrastructure through a variety of virtualization and consolidation technologies, including blade servers and storage arrays," said Logicalis Senior VP Eric Linxweiler. "We knew the numbers would be surprising to many IT executives and we wanted to provide a simple method for estimating power consumption and the related potential savings for organizations."
As Logicalis IT infrastructure and data center experts combined this concept with consolidation and virtualization, it became clear that an online calculator could be used to quickly demonstrate savings in energy and carbon consumption when applied to changes in the data center.
"Logicalis was also able to demonstrate the potential hard dollar savings that organizations might realize through these efforts," added Linxweiler.
The calculations behind the Logicalis IT Carbon and Power Consumption Calculator are based on information from several reliable sources:

Emission Factors - U.S. Department of Energy
Power Rates - U.S. Energy Information Administration
Power loads per device - various IT vendor sources based on average configurations of sample Logicalis customers.
Run Time - based on a full year with zero downtime, based on Logicalis customer examples.
Tree and Oil measurements - various energy-related sources.
The calculator is intended to provide a representation of an organization's overall energy usage and costs. It is not meant to provide a detailed assessment of a specific IT environment's power usage, which would require a detailed energy audit for each environment.
"The good news is that what is good for an organization in terms of enhancing utilization of IT assets and lowering the total cost of a data center is also good for the environment," said Linxweiler. "This calculator is a quick and easy way of quantifying the financial and environmental benefits."
Logicalis IT Carbon and Power Consumption Calculator
Users can enter their own figures to best represent the number of IT infrastructure elements (including servers, storage and network devices) that exist within their data centers. Energy rates and emission factors can be selected to reflect the data center's location. The resulting annualized figures for energy costs and energy reduction can help IT managers make better decisions about virtualization and consolidation initiatives.
About Logicalis
Logicalis is a global provider of high-performance technology solutions. With over 1,200 people worldwide, Logicalis delivers smart solutions based on specific needs, not the latest IT trend. Logicalis provides options, direction and support to more than 5,000 corporate and public sector customers. The company attributes its success to the everyday positive experiences with its customers and strategic partners such as IBM, HP, Cisco and EMC.
Logicalis is a division of Datatec Limited (LSE/JSE:DTC), a $3.2 billion multi-national organization listed on the AIM market of the LSE and the Johannesburg Stock Exchange. With its international headquarters in the UK, Logicalis has annualized global revenues of over $900 million from operations in the U.S., UK, Germany and South America. For more information about the Logicalis experience, visit http://www.us.logicalis.com .
Media contacts:
Lisa Dreher, VP, Marketing & Business Development, Logicalis, Inc.
lisa.dreher(at)us.logicalis.com
425-201-8111
http://www.us.logicalis.com
Arthur Germain, Principal, Communication Strategy Group for Logicalis
agermain(at)gocsg.com
631-239-6335
http://www.gocsg.com
###