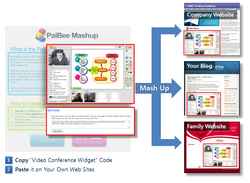 I encourage everyone to sign up for the beta and use our Mashup API.
Seoul, Korea (PRWEB) December 19, 2007
PalBee.com announced today that is has begun a beta test of its Mashup API. The Mashup API allows beta participants to embed a PalBee video conference anywhere on their own web site. This is made possible by a widget that allows real time video conferencing to anyone who visits the web page. The Flash-based technology does not require setup or configuration; simply copy and paste the code and everything else falls into place. "PalBee is the first widget that allows video conferencing in the comfort of your own web site," said Albert Kim, CEO of Zenitum Inc.
Bloggers and webmasters always seek a closer relationship with their online visitors, and web applications such as forums, comment pages, and web site statistics have been built in order to paint a clearer picture of the kind of people that visit the web site. With PalBee's Mashup API, now they can see video of their visitors in real time, right on their own web site. "I'm really looking forward to seeing what people do with this," said Matthew Weigand, Marketing Manager of Zenitum Inc. "I encourage everyone to sign up for the beta and use our Mashup API."
For more information regarding Palbee Video Conference mashup API, visit Palbee.com
Many different Uses
PalBee.com previously announced a pre-registration for its Mashup API beta test just one month ago. Since that time, many different web developers from a variety of different backgrounds and industries around the world have signed up to test the web service for a variety of remarkable uses. One tester of this new technology will use the video conferencing feature to give constituents a platform for communication on a US Senator's campaign web site.
Another application suggested will be to provide in-house video conferencing for a corporate intranet. A third plan by another developer is to create a web site for family members to meet and talk on a regular basis. One developer plans to add video conferencing abilities to an alternative conflict resolution arbitration firm. A collection of bloggers would like to use the video conferencing feature to speak among themselves about the content to be featured on their collaborative blog. Several different testers, including one European university, would like to try out the different applications of video conferencing for e-learning sites. The most interesting and unexpected application proposed by one beta tester is to provide online sign language interpretation services for deaf customers.
Combination of Technologies
In today's expanding global marketplace, the person with the information and the people who need the information cannot always be in the same place at the same time. Many communication technologies such as mobile phones, email, or online messengers are useful but often inadequate for distributing large amounts of information to many people quickly. PalBee combines several features of other popular communication tools into one online application that requires only a copy and paste to use. For instance, it can allow video chatting between people similar to Skype and MSN Messenger, but it expands that capability to speak to four other people at once instead of just one. It can also be used for slide show presentations similar to Flickr, but these slide shows can be narrated or set to a soundtrack. Thirdly, it can be used to show presentations like PowerPoint, but online, at any time, and on any platform.
PalBee fills the gap between expensive face-to-face meetings with international associates and the impersonal nature of email. You can use PalBee for work - in marketing, sales meetings and conferences. You can use it at school to present or view lectures, school projects, and online tutoring. You can use PalBee in your personal life for contacting your friends and family and sharing photos. The applications of PalBee are endless.
The PalBee Team is committed to developing the application to support our users in their communication and knowledge sharing. They hope you enjoy the PalBee online service.
About Zenitum Inc
Zenitum is a next generation Internet communication service and solution developer headquartered in Seoul, South Korea. The company dedicates to develop unique solutions based on computer vision, 3D graphics, and video technologies.
For more information, please contact:
Zenitum Inc.
Matthew Weigand
Marketing Manager
+82-10-5877-3561
Matthew(at)zenitum.com
###