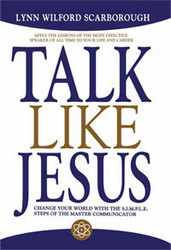 Regardless of time and culture, there are universal principles that Master Communicators practice
Dallas, TX (PRWEB) December 18, 2007
"Talk Like Jesus", evaluates the communication style of the Master Communicator through the eyes of a national television news coach and media trainer --revealing the techniques that work in an information-saturated world.
"Regardless of time and culture, there are universal principles that Master Communicators practice," explains author Lynn Wilford Scarborough. "Communication is a life skill which we spend our whole life learning; and to be successful, we must learn from the best. Without a doubt, Jesus was the greatest communicator of all time."
With careful analysis, historical references, and humorous storytelling, "Talk Like Jesus", discovers the secrets of Jesus' communication methodology, and introduces them with the S.I.M.P.L.E ™ steps. S.I.M.P.L.E.™ stands for -- Stories, Interaction, Multi-Track Communication, Preparation, Love and Execution.
This is not your ordinary "Sunday School" Jesus. Instead, Scarborough challenges readers to consider a Jesus, who is strong and direct, and did not suffer fools or waste his time with those who were hard-hearted or self-important. With contemporary examples from TV journalists, Scarborough, demonstrates that Jesus' techniques have relevance in the electronic Information Age. In this groundbreaking new book, the reader will find that Jesus was like:

A masterful film director, who crafted stories that exploded into memories.
A seasoned television producer, who knew the power of a cliffhanger.
A news anchor, who knew how to use hooks and teases to keep his audience involved.
A skilled journalist, who used questions to expose truth and deflect criticism.
"Born in a barn, raised in a ghetto, and a common laborer by trade, Jesus spoke in obscurity -- yet Jesus of Nazareth is still the most quoted person and best selling author in the western world," says Scarborough. "Imagine a Jesus that is a combination of talk show host, investigative reporter, movie producer and comedian--and you begin to discover the brilliance of his communication skills."
From business CEOs to software development teams, political spotlight to management critiques, sales meetings to communication breakdowns, "Talk Like Jesus, Change Your World with the S.I.M.P.L.E. ™ Steps of the Master Communicator" gives practical suggestions that will empower anyone's daily communication and meaningful applications to help deal with professional and personal communication difficulties. Those in the media spotlight will learn from Pilate's example of how to handle a media disaster.
Lynn Wilford Scarborough is founder of EmPowerCom.us a firm specializing in strategic business communications and media training. For 20 years, the author has conducted over 6,000 coaching sessions, with over 200 television news organizations including ABC, CBS, CNN and FOX. She has trained anchors, reporters, sports celebrities, politicians, CEO's, ministry leaders and authors.
"TALK LIKE JESUS, Change Your World with the S.I.M.P.L.E.™ Steps of the Master Communicator," published by Phoenix Books, Beverly Hills, CA., available in stores Dec. 2007.
###