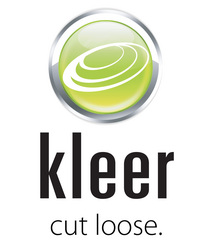 Kleer's vision is that the portable media player becomes the storage medium of choice for all digital content including music, video and images
Cupertino, CA (PRWEB) December 19, 2007
Kleer today announced that their ultra-low power consumption KLR3012 RF module now supports high quality compressed video in power-sensitive applications such as digital media players. Video can now be streamed from a digital media player to a larger display, or to another media player to allow multiple individuals to view the content.
"Kleer's vision is that the portable media player becomes the storage medium of choice for all digital content including music, video and images," says Ron Glibbery, VP of Marketing for Kleer. "The key to making that vision successful is the ability to easily render the media player content on a variety of external devices including earbuds, speakers, video displays and photo frames without having to deal with a mess of cables and connectors, and without significantly reducing the battery life of the player."
Other wireless technologies such as WiFi and Bluetooth simply consume too much power to support wireless content streaming in battery powered devices. Kleer's technology achieves 10 times the battery life of a comparable Bluetooth solution for stereo audio, and with the addition of video streaming, Kleer solidifies its position as the wireless streaming media technology of choice.
Kleer will be at CES 2008 demonstrating wireless video streaming using Kleer-based USB adaptors on notebook computers. The USB adaptor is also capable of streaming audio from the computer to any Kleer-based wireless earbud or speaker.
Kleer reference designs provide manufacturers with the baseline set of technical information they need to bring product to market, including the BOM, schematics and Gerber files. Evaluation kits and reference design prototypes can be ordered by contacting Kleer.
More About the Kleer Audio LP Line of RF Wireless Modules:
Kleer's Audio LP line of RF wireless modules is the industry's first such offering to combine high quality audio and robust ISM band coexistence with low power consumption to address the full range of audio market segments. Unlike Bluetooth, Kleer's patented subsampling radio architecture was designed from the ground up to communicate lossless CD-quality digital stereo audio over a robust 2.4GHz radio link, while achieving 10 times the battery life of a comparable Bluetooth solution. Kleer's Wireless Audio LP technology is ideal for consumer electronics OEMs that want to develop interoperable wireless audio products for the portable, home and automotive audio markets. The first product in the Kleer Audio LP line is the KLR3012 module that integrates Kleer's mixed signal RFIC with RF passives such that little RF design expertise is required to implement a product. Kleer's embedded software also offers complete and configurable functionality enabling the implementation of products with little or no software development.
About Kleer Corp.:
Founded in 2002, Kleer is a fabless semiconductor company that has developed the first wireless audio technology to combine high quality audio and robust ISM band coexistence with low power consumption to address portable, home and automotive audio markets. Kleer's Audio LP technology is ideally suited for OEMs of portable audio players, iPod® and other player accessories, home audio/theater systems, earphones, headphones, and speakers. Kleer distributes its products via direct sales in North America, and a distribution channel in Korea and Japan. The Company is headquartered in Cupertino, California with product development facilities in Ottawa, Ontario.
For more information, contact the company at 19925 Stevens Creek Blvd. Suite 111, Cupertino, CA, 95014, Tel: 408-973-7255, Fax: 408-973-7256.
*Apple, the Apple logo, Mac, Mac OS, Macintosh, iPod and iTunes are trademarks of Apple. All other trademarks, registered trademarks, products and/or services mentioned herein are the property of their respective owners.
For more information:
Media Contact:
Marlene Kovac or Susan Verrecchia
Verrecchia Group Communications
Tel: (514) 421-1940 Ext. 148
Email: marlene @ vergroup.com Or susan @ vergroup.com
Kleer Inc. Contact:
Ron Glibbery - VP Marketing
Tel: (408) 966-8938
Email: rglibbery @ kleer.com
###