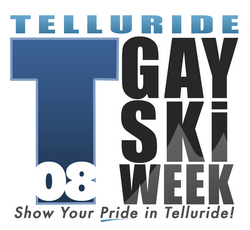 This event continues to be one of Mountain Village's signature events and we're pleased that TMVOA is able help bring this event to our community each year
Mountain Village, CO (PRWEB) December 19, 2007
The Telluride Mountain Village Owners Association (TMVOA), sponsors and organizers of the Fifth Annual Telluride Gay Ski Week (TGSW) today announced the schedule of events for 2008 which takes place Saturday, February 23, 2008 thru March 1, 2008. Since 2004, Telluride Gay Ski Week has welcomed guests from across the U.S. and around the world to some of the finest skiing and GLBT events in North America. This year's event as in years past will benefit the Telluride AIDS Benefit (TAB), a local, grassroots 501(c)(3) organization that has been committed to HIV/AIDS awareness in Colorado for now 15 years.
"This event continues to be one of Mountain Village's signature events and we're pleased that TMVOA is able help bring this event to our community each year," said Mike Wisniewski, TMVOA president.
For 2008, TGSW welcomes two leading gay TV personalities to serve as celebrity emcees during the week. Reichen Lehmkuhl, known for the visibility he brought to the GLBT community through his participation in NBC's Amazing Race and now as a recurring character on the new third season of here! TV's Dante's Cove, will appear at Telluride Gay Ski Week for the first time. 2007 host Charlie David (also of Dante's Cove) returns to TGSW for a second year, fresh off from production of his new movie "Mulligans" but with the production crew in tow from his travel series BUMP!, which airs as well on here! TV. David will be filming an all-new episode of BUMP! that will focus exclusively on Telluride - Mountain Village and the annual ski week.
Schedule of Events includes:
Saturday, February 23 Welcome Mixer
Sunday, February 24 Oscar® Night Party and Opening Reception
Tuesday, February 26 BUMP! Shot Party
Wednesday, February 27 Mad Hatter Ski Party
Thursday, February 28 White Night Party / Telluride AIDS Benefit Sneak Peek Show
Friday, February 29 Telluride AIDS Benefit Opening Reception and Silent Auction
Saturday, March 1 15th Annual Telluride AIDS Benefit Gala Fashion Show
The Oscar Night Party is TGSW's annual Academy Awards watching event and opening reception that takes place at the Sheridan Opera House and kicks off the week on Sunday, February 24th. The big screen telecast is a "must watch" for all attendees. This year, the party doesn't end with Best Picture but goes on with a DJ and dancing through the late night.
The Mad Hatters Ski Party is new this year and is an "on mountain" hat contest that takes place on Wednesday, February 27th. Skiers will create their wildest hat or headgear under the watchful "eye" of BUMP! Celebrity judges Charlie David and Reichen Lehmkuhl will be on hand to pick the winner. Winner of "Best Head" will be announced slope side during lunch and prizes will be given to the maddest hatters in each category.
The White Night Party returns for its fifth year to TGSW on Thursday, February 28th. Immediately after the Telluride AIDS Benefit Sneak Peek Show, guests will gather under the big white tent for an evening of high-energy dancing, guest DJs and "eye candy." This event has become a popular annual tradition with local residents and ski week attendees alike.
Additional activities, bar parties and après' ski parties are scheduled or are currently in the planning stages and will be posted on the official Telluride Gay Ski Week website (http://www.telluridegayskiweek.com) as they are confirmed.
Telluride Gay Ski Week 2008
When: Saturday, February 23, 2008 - Saturday, March 1, 2008
Where: Town of Mountain Village, CO and the Telluride Ski Resort
Info: Event pricing and lodging/travel packages to be announced.
Visit http://www.telluridegayskiweek.com for more information.
About Telluride Gay Ski Week
Telluride Gay Ski Week (TGSW) is an annual week-long gay ski event hosted by the Telluride Mountain Village Owners Association and supporting the Telluride AIDS Benefit. An alternative to other gay ski events, TGSW provides a unique vacation experience in a spirited and unpretentious ski town. Nestled in a box canyon surrounded by the majestic 13,000ft peaks of the San Juan Mountains, Telluride Gay Ski Week brings the charm of Telluride together with the European-style town of Mountain Village. For more information, visit http://www.telluridegayskiweek.com
About Mountain Village
Perched at 9,500 feet, Mountain Village is an intimate alpine enclave with luxury hotels and condominiums, stylish boutiques and innovative dining. Home to the state-of-the-art Telluride Conference Center and the convenient Mountain Village Activity Center, this European styled alpine village provides unsurpassed scenic ambiance with an emphasis on guest service. Ski runs meander through the town, giving many homes, condominiums, and hotels direct ski access to the slopes. All elements combine to create a modern alpine elegance to complement the rustic charm of Telluride.
Oscar and Academy Awards are registered trademarks of the Academy of Motion Picture Arts and Sciences
# # #