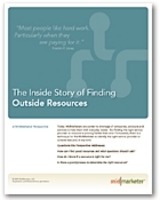 The Inside Story on Hiring Outside Resources.
Chicago, IL (PRWEB) December 19, 2007
MidMarketer.com, a new online resource for best practices in marketing for mid-sized organizations released a new marketing report today entitled "The Inside Story on Hiring Outside Resources." The report is aimed at marketing professionals of mid-sized organizations, and provides guidance on how to identify and hire the right outside marketing resources.
Dan Swartz, Executive Editor of MidMarketer notes, "Many mid-sized companies search for new marketing resources just before and just after the New Year. Unfortunately, many marketing professionals are too pressed for time or too short on staff resources to follow a strategic process for identifying and hiring a partner or vendors." Swartz adds, "This report helps marketing people in mid-sized companies avoid making the wrong decision when selecting resources, by giving them clear, step-by-step advice on how to the right resources for the long-term."
Perspective reports from MidMarketer are designed to help inform mid-sized companies on effective marketing practices. Says Swartz, "Each Perspective report includes real-world, actionable items that a mid-marketer can take and use that very day." Perspectives tackle strategic, creative and tactical topics, and two new reports are published each month. MidMarketer also offers marketing templates and tools designed specifically to help mid-sized organizations take action on achieving better results from their marketing.
The new perspective "The Inside Story of Selecting Outside Marketing Resources can be found at http://www.midmarketer.com/perspective/
About MidMarketer
MidMarketer provides content developed from industry experts that are passionate about marketing for mid-sized organizations, certified resources that are hand-picked to help a mid-sized organization, and events focused on topics specifically for mid-sized markets. Everything has the mid-marketer in mind, with results focused on insight and direction that enables marketing professionals of mid-sized companies to take action and drive success.
# # #