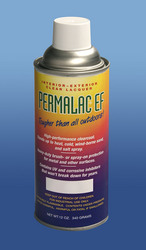 Philadelphia, PA (PRWEB) December 20, 2007
Peacock Laboratories, Inc., a specialty coatings manufacturer in Philadelphia, PA is introducing an outdoor grade lacquer engineered to withstand extremely harsh weather conditions. New PERMALAC EF is an environmentally safe, low VOC outdoor lacquer of proven durability and superior appearance. The product is available in spray cans or in quart or gallon cans at specialty distributors or directly from the Permalac website.
Users of original PERMALAC outdoor lacquer have been achieving superior results for years. For example, a manufacturer of corporate signage recently reported that a large stainless steel installation near the Pacific Ocean looked as if it had been put in yesterday, although it hadn't been touched since it was first coated with PERMALAC six years ago.
Fence, window, door, and other companies who make products that must withstand wind blown sand, desert heat, salt spray and other abusive outdoor environments have experienced similar results. PERMALAC's ability to protect delicate patinas from UV corruption has been especially important to sculptors who work on outdoor commissions.
Some users have, however, expressed concern about PERMALAC's VOC content. While not high or hazardous, these users wanted to be free from any health related concerns. As a result, Peacock put an environmentally friendly version of PERMALAC into development.
Because Peacock was determined to make the new PERMALAC EF as tough, long lasting, and unchanging in appearance as the original PERMALAC, extensive field testing was undertaken before introduction.
For more information on PERMALAC EF and Peacock's other products visit:
http://www.permalac.com, or call 215-729-4400. Fax: 215-729-1380.
# # #