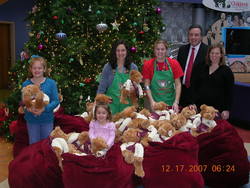 The holidays are such a special time for everyone, so we wanted to provide some extra cheer to the children having to spend their holidays in the hospital
Kansas City, MO (PRWEB) December 19, 2007
Helzberg Diamonds has been making moments sparkle for more than 90 years. And on Monday, Dec. 17, they continued the tradition by donating more than 270 "Sparkle the Bears" to the children at Children's National Medical Center, adding additional sparkle to their holidays.
"With exceptional community partners like Helzberg Diamonds, we're able to provide a fun and exciting environment for our children, one similar to what they would find at home," said Katie Ahrens, Team Leader for Volunteer Services at Children's National. "The bears will be a great surprise for every child needing a furry friend to snuggle with as they recover from surgery."
Customers visited eight area Helzberg Diamonds locations the first week in December to purchase and donate "Sparkle the Bear" to give to the children at Children's National. Each customer had the opportunity to write and attach a holiday wish for the children. The Washington Redskins Cheerleaders joined the effort by making in-store appearances on Saturday, Dec. 8, to help collect the bears.
"The holidays are such a special time for everyone, so we wanted to provide some extra cheer to the children having to spend their holidays in the hospital," said Sam Varney, Regional Manager for Helzberg Diamonds. "We are thrilled to partner the Redskins Cheerleaders and Children's National Medical Center to make this a memorable holiday season."
Profits from each "Sparkle the Bear" sale are donated through Jewelers For Children (JFC) to children charities, including Make-A-Wish, St. Jude's Children's Research Hospital, Elizabeth Glaser Pediatric AIDS Foundation and Autism Speaks among others.
Helzberg Diamonds, a retail jewelry company founded in 1915 and focused on customer service, has nearly 270 stores nationwide selling a wide selection of fine jewelry, including diamonds, precious gems and watches. Helzberg Diamonds takes pride in its history of offering exceptional value, exclusive designs and timeless jewelry. Helzberg Diamonds is based in North Kansas City, Mo., and is part of the Berkshire Hathaway, Inc. (NYSE symbol BRK) family of companies. For Helzberg Diamonds locations nearest you, call toll-free 1-800-HELZBERG or visit helzberg.com.
###